Online Payments With The Biggest Name In eCommerce

Amazon Pay expanded into the UK in 2017, making it a relatively new option for merchants here. As a subsidiary of the world's largest eCommerce brand, you would like to think Amazon Pay knows how to provide payment solutions for an online retailer. However, the company has two parties to think about: you the merchant and the shopper buying from you.
There are definitely some benefits to Amazon Pay's unique market position. Above all, it has to work hard to create a seamless payment experience for the people buying from you – and this is only going to help you convert more people into paying customers.
At the same time, there are some potential downsides to not always being the priority for Amazon Pay and we'll explore these in more detail later in this review.
First, let's take a closer look at what Amazon Pay has to offer in terms of its products and services.
Amazon Pay Products & Services
Amazon Pay is all about creating a seamless payment experience for its users but there are a number of features also designed to make payment processing easier for you, the merchant, too.
Payments: Credit and debit card processing for all the major providers.
On-site checkout: Users never need to leave your site to complete the purchase.
Mobile-friendly: Amazon Pay's checkout is optimised very well for mobile and tablet.
Amazon accounts: Users already logged into Amazon don't need to enter their payment details all over again.
Customer data: You get customers' name and email data at the check-in.
Buy now button: Embed "buy now" buttons easily on your website.
Recurring billing: Automate recurring payments for repeat customers.
Fraud protection: Free protection from fraudulent transactions.
Integration: Amazon Pay integrates with a long list of eCommerce platforms including Shopify and BigCommerce.
Here's a quick run through the payment options supported by Amazon Pay:
Visa
Mastercard
American Express
Delta
Visa Electron
EuroCard
UK based Maestro and Solo cards
The big downside to Amazon Pay on the payment side of things is that you can't accept payments from PayPal. Of course, PayPal is Amazon Pay's closest competitor but it's also significantly more popular and not giving your customers the option to pay through PayPal isn't something we can recommend for any online retailer.
This remains a major advantage in favour of PayPal and other payment services that support PayPal payments.
Amazon Pay does have a secret weapon in the form of its API, which allows you to develop custom integrations anywhere on your website. PayPal also has an API but it's only available on its most expensive package while Amazon doesn't charge you anything extra.

While Amazon Pay aims to make it easy for customers to buy from you, it also wants to make its system easy to integrate on your website. You'll be glad to hear Amazon Pay integrates nicely with most of the major eCommerce platforms such as Shopify, Magento and BigCommerce.
You can see the full list of integrations on the Amazon Pay website.
Amazon charges a variable fee of 3.4%-1.4% + 20p per transaction, depending on the volume of payments you process every month. These prices aren't particularly competitive at either end of the spectrum by today's standards. Low volume merchants can get cheaper rates from the likes of Square and SumUp while PayPal also beats Amazon Pay at every price bracket.
Here's an overview of the current fees you can expect to pay:
| Monthly Payment Volume (GBP) | | |
| --- | --- | --- |
| | | |
| | | |
| | | |
| | | |
| | | |
This is going to make Amazon Pay one of the more expensive options on your list. If you're selling high-end products with a solid profit margin on each transaction, this might not be a major problem for you but you're always going to get better transaction rates elsewhere.
Transaction rates aren't the only thing to consider, though.
Another potential issue with Amazon Pay is the time it takes for funds to reach your account. Once your account is set up, there's a 14-day observation period, during which time no funds will be released into your bank account. After that, funds will be released on a rolling basis every day but you'll still have to wait 5-7 days for funds to reach your account.
While you can request faster service times after six months, Amazon Pay is way behind the industry average of funds reaching your account within 2-3 business days.
Amazon Pay Contracts & Early Termination Fees
Something else you need to consider with any kind of payment service is whether you'll be tied into any contracts and hit with termination fees if you decide to cancel. The good news is Amazon doesn't tie you into lengthy contracts and there are no termination fees to worry about.
While you'll get the best transaction fees by going through a dedicated merchant account provider, contracts and termination fees are a regular complaint among customers who take this route.
For smaller retailers, getting a merchant account might not be possible and this is where alternative such as Amazon, PayPal and Square become important. Most companies in this bracket allow you to process payments without signing up to any contracts, which means no termination fees.
So while it's good that Amazon takes the no-contract approach, this doesn't give it any kind of advantage over its direct rivals.
Amazon Pay Sales & Transparency
Amazon Pay is very transparent when it comes to fees and charges. You can find all the details you need on its UK website and all the details about pricing are clearly stated in the Amazon Pay Fees section. Its pricing policy is pretty straightforward, too, which always makes it easier for merchants to understand what they're getting into and the lack of contracts and termination fees completes a highly transparent fee structure.
You just need to make sure you're aware of the cross border fees, if you're selling to customers outside of the UK. Once again, you can find all of this information available on its UK website.
Amazon Pay Customer Service & Technical Support
Amazon Pay offers 24/7 support for all of its customers and this includes merchants in the UK – something we can't underestimate in an industry dominated by international providers. Amazon Pay also has a dedicated support team for merchants although you'll need an Amazon seller account to get access.
It's reassuring to see the company has a support team specifically for merchants but feedback from existing customers is a little mixed.
There's also an extensive online support section where you'll find documentation and guides for all of the basics and most of the technical user issues you might run into. As far as support sections go, Amazon Pay has done a decent job here although it's difficult to compete with PayPal's huge support community.
Amazon Pay Reviews & Reputation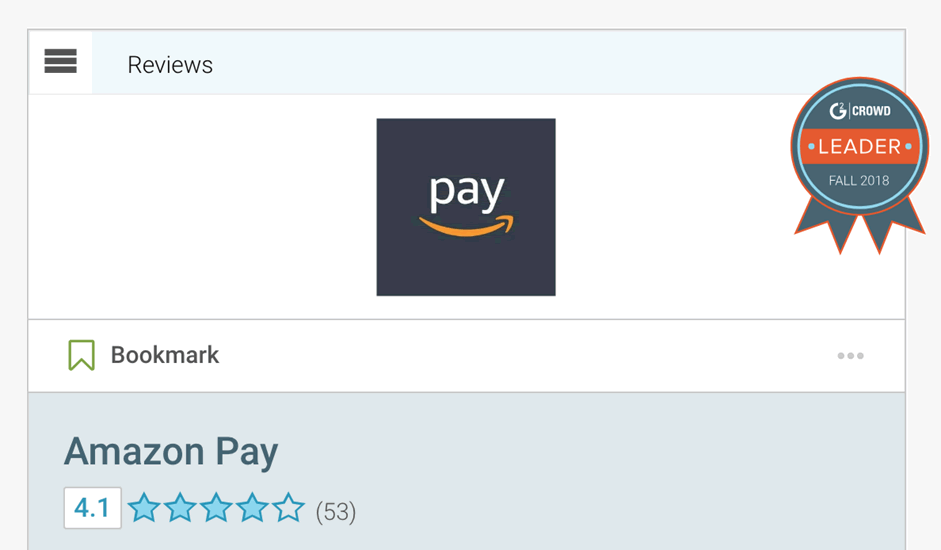 Most online reviews for Amazon Pay are bundled in with reviews for Amazon in general, so it takes some time to get an idea of the company's reputation. While reviews are generally positive, there are some common complaints about the following issues:
Withholding funds: A number of customers report Amazon Pay holding funds for 90 days and freezing accounts without any prior notice. In some cases, the issue appears to be resolved after 90 days, without any explanation, while other cases seem to run on for much longer.
Approval process: Other customers have complained about the lengthy verification process and being asked to send additional documents after being initially approved.
Initial hold: One of the most common complaints with Amazon Pay is the amount of time the company holds on to funds before depositing them in merchants' account.
Fraud accusations: Some customers say Amazon has wrongly accused them of selling counterfeit items and frozen their accounts.
Those are complaints we hear most about Amazon Pay but the company's overall reputation is quite positive. A lot of merchants appreciate the fact Amazon is a name known and trusted around the world and recognise how easy it makes payments for users.
Amazon Pay has some real strengths going for it and we expect to see continued growth as the payment method is used more by merchants and shoppers alike. However, it still has a lot of growing up to do before it can catch up with the industry leaders such as PayPal.
Its biggest problem is the fact you can't process payments through PayPal at all and this rules out one of the most popular forms of online payments. Yes, you can get around this by using Amazon and another gateway that supports PayPal but this leaves you with a more complex setup.
The other key issue is pricing and Amazon Pay stacks up as the more expensive option compared to its direct rivals, no matter which way you look at it. You may decide these higher fees are worth it for the brand recognition and added trust you get from having the Amazon logo on your site but we have to question how much consumers are going to trust Amazon more than PayPal anyway.
All things considered, Amazon Pay has a lot of potential as a payment gateway but we feel the company needs to make a few refinements before its going to become a more compelling alternative to its competitors.