Fill in our short form below (it only takes a minute) and
save up to 40% in fees.
Fill in our short form below (it only takes a minute) and
save up to 40% in fees.
PDQ (process data quickly) machines are now a permanent fixtures in most businesses across the UK and are their numbers are growing every month. The vast majority of businesses no longer debate if they should get one, the main questions revolve around which type to get and how can the costs be minimised
PDQ machines fall into three general categories:
Static terminals are normally countertop machines that are placed at tills and work by connecting to a phone line or the internet. These are ideal for shops where customers take their purchases to the till to pay for them.
Portable terminals are ideal for hospitality businesses, such as restaurants and bars, as they can be carried from table to table. They work through a Bluetooth connection.
Mobile terminals are portable devices that work through a GPRS connection. They are ideal for businesses that render mobile services, such as plumbers, taxi drivers and builders.
PDQ Machines Compared
The type of PDQ machine you'll need to get will naturally depend on the type of business you have and your budget. PDQ machines vary in features and price, and it's best to determine first what your needs are and shop around based on these needs.
Here are some of the better-known PDQ machines available on the market right now:
Static Terminals
Verifone VX510: This is a large countertop unit that's designed for coping with high transaction volumes. It has an optional privacy shield for extra security.
Ingenico ICT220: This machine is designed to fit into smaller spaces.
Hypercom T4220: A hefty countertop that takes up a lot of space, this machine is popular among businesses with large spaces because of its user-friendly features.
Portable Terminals
Hypercom M4240: This is another chunky but easy-to-use unit with a Bluetooth range that's longer-range compared to other models. This is ideal for larger premises.
Ingenico 930BCC: A slim terminal for smaller premises and can be equipped with contactless card reading technology.
Verifone VX670: This model is different from the rest because it can connect to a WiFi network, allowing for more reliability over long ranges.
Mobile Terminals
Axalto MagIC X1000: This is quite a bulky unit with an external aerial but can handle up to 3 SIMs and has a built-in privacy shield for the keypad.
Hypercom M4230: This unit gives users the option to connect to a base station in cases where GPRS/GSM connections don't work. It also comes with an in-car charger.
Portable and Mobile PDQ Machines: What's the Difference?
Portable credit card machines work in the same way as static ones do, but they come with the convenience of being wireless. Instead of using a dial-up connection, they use Bluetooth technology to deliver payment facilities. Portable card readers are ideal for use in the hospitality industry as it allows customers to pay without having to leave their tables.
Mobile credit card machines, on the other hand, are used for processing payments without going through a landline or a wired internet connection. Like mobile phones, they rely on GPRS technology through the use of a SIM card. They're ideal for any merchant who needs to take card payments on the go, such as street vendors, mobile hairdressers, plumbers and builders.
Because of the ready availability and versatility of mobile credit card machines, many hospitality businesses are starting to use them as well in place of traditional portable machines. The following section will feature some credit card machines that are both portable and mobile.
Some of the Best PDQ Machines
Portable and mobile credit card machine technology is constantly changing and keeping up with changes in static credit card machines. Many now come with contactless technology, which allows for even faster payments for transactions that cost £20 or under.
Here are some of our choices for the best on the market right now, all of which come with a highly secure Chip and PIN verification system to protect your customers' card details: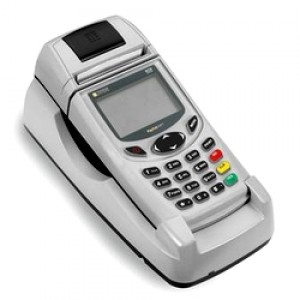 MPT510 Wi-fi
Equipped with wireless broadband capability, this user-friendly mobile credit card machine has a simple printer reload function and comes with an in-car charging dock. It also gives you access to an online reporting tool to help you keep track of your transactions.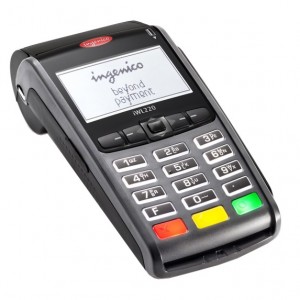 Ingenico iWL220 Bluetooth
This portable credit card machine has a base unit that can be connect to a high speed ethernet cable and the payment terminal has Bluetooth wireless range of up to 200 metres. It has a battery life of up to 150 transactions, a  and can use dial-up as either a primary or a backup connection. Its thermal printer can print 30 lines per second meaning your receipts can be printed out quickly. It has a clerk/server identification and report function and can give customers prompts for tips.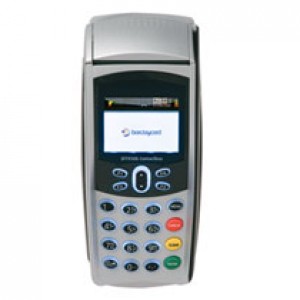 1-2-1 Mobile GPRS Terminal
Offered by Barclays, the 1-2-1 Mobile GPRS Terminal is both portable and mobile and is integrated with contactless technology. It has extensive coverage in the UK and uses a roaming SIM with Vodafone, O2 and Orange GPRS networks. The device is lightweight and can process up to 150 transactions between battery charges. It can be configured for gratuities, cashback, refunds and even pre-authorisation.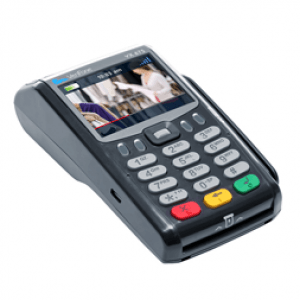 Verifone VX 675
This is the world's smallest portable credit card machine, with a durable casing that's designed to be drop resistant. With its 3G technology, the VX 675 can be used as a mobile payment machine as well. It has a built-in charger and a thermal printer that can print 18 lines per second. It's compatible with a wide range of globally accepted card payments.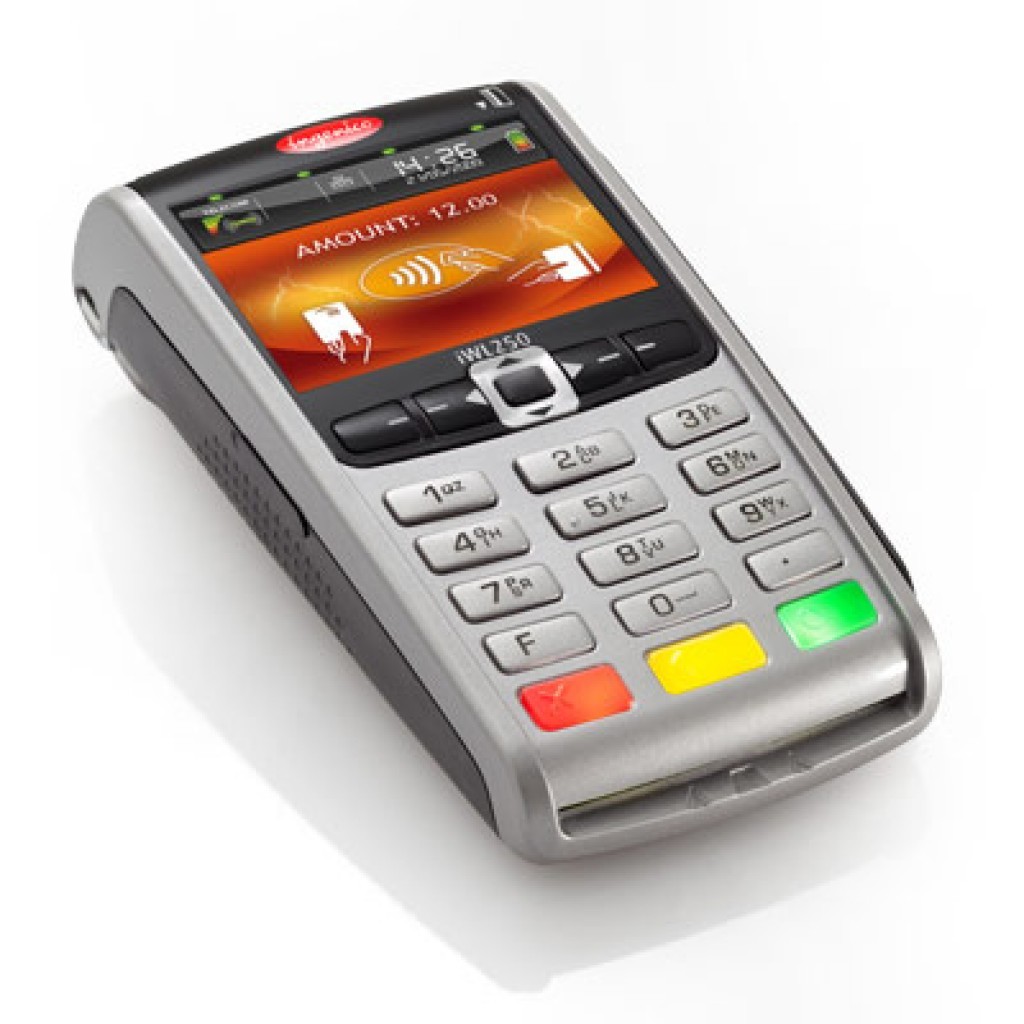 Cardsave Mobile IWL251
This GPRS credit card machine is lightweight and both spill and drop resistant. It can process up to 650 transactions between battery charges and its thermal printer can print 30 lines per second. It has a user-friendly interface and comes with multiple connectivity options.
PDQ Costs
Before you get a credit card machine, make sure that you have a merchant account as this is a requirement for any business that would like to accept card payments. You can use our comparison form above to find the best merchant account provider for your business.
You can choose to either buy or rent your credit card machine. Purchase prices normally start at around £500 (although some payment service providers will sell you one for as low as £99 if you sign up for their merchant services) while weekly rental fees start at £20.
Short-term lease options are also available, starting at around £75 for three days' usage. You might need to make a refundable deposit (around £250) on top of paying for delivery and configuration.
Buy or Rent PDQ Machines?
Whether you buy or rent your PDQ machine will depend on your budget and needs. There are pros and cons to each option. Do keep in mind, however, that there are many payment service providers that will throw in a PDQ machine for free or for a minimum fee if you use their services, so it's good to look at these companies as well as direct PDQ machine suppliers.
Buying a PDQ machine:
The best thing about buying your own unit is that you only have to think about the cost just once. If you have cash on hand, this is definitely a good option. PDQ machines vary greatly in price, ranging from £200 to £800 on average. The price is dependent on the features and wireless capability of the machine.
Renting a PDQ machine:
Renting your PDQ unit is a good idea if your budget is limited. You also normally get free maintenance and repairs with rented units. Most suppliers will also replace rented units for free with newer models as part of the rental contract. Rental fees range from £20 to £30 a month. You are likely to get a discounted rate if you rent more than one unit and tie yourself down to a longer contract.
This guide will focus on portable and mobile credit card machines and leave out countertop or static credit card machines which are the ones you will find at tills in shops.