UK SME Data, Stats & Charts
According to research from the department of Department for Business, Energy & Industrial Strategy, at the start of 2018 a massive 99.9% of the 5.7 million businesses in the UK are small or medium-size businesses (SMEs). 
These SMEs, defined as business that have up to 250 employees, accounted for 60% of all private sector jobs in the UK, a total of 16.3 million. Make no mistake about it, SMEs are crucial to the UK's economy and their contribution is increasing every year.
In this article, we've collected all of the latest SME stats to summarise the state of UK businesses in one easy read. We will update it periodically as new data is released.
As previously mentioned at the start of 2018 there are 5.7 million businesses in the UK, up from 5.5 million the previous year. This figure has increased every year since the year 2000 and it's a safe bet it will continue to do so.
As we mentioned in the intro, this means 99.9% of all private sector businesses in the UK are SMEs. That's right, just 0.1% of enterprises in the UK have 250+ employees and we don't exactly have an excess of medium-sized businesses either.
Only 0.6% of businesses in the UK are classed at medium-sized businesses, according to government statistics. This leaves 99.3% of all enterprises in Britain are classed as small businesses with fewer than 50 employees but we still have one more business category to look at.
Within the small business niche, we've also got micro-businesses (0-9 employees) and these make up 96% of all private sector companies in the UK. That's right, 96% of businesses in the UK employ fewer than 10 people.
Private Sector Business In the UK by Business Size / No Of Employees


That's quite a lot of statistics we've just thrown at you so let's just have a quick recap of the key figures:
99.9% of all UK businesses are classed as SMEs (0-249 employees)
0.6% are medium-sized businesses (50-259 employees)
Less than 4% are small businesses (10-49 employees)
More than 95% are micro-businesses (0-9 employees)
Employee Growth of Micro, Small, Medium & Large UK Businesses
What's particularly interesting is that the number of companies without any employees at all has grown more than the total number of businesses (82% compared to 25% of UK companies) between 2000-2018. This tells us more people are turning their backs on the traditional 9-5 jobs and starting their own personal ventures – everything from plumbers and freelancers and entrepreneurs and small eCommerce stores.
Growth in UK businesses in the private sector by number of employees (2000-2018)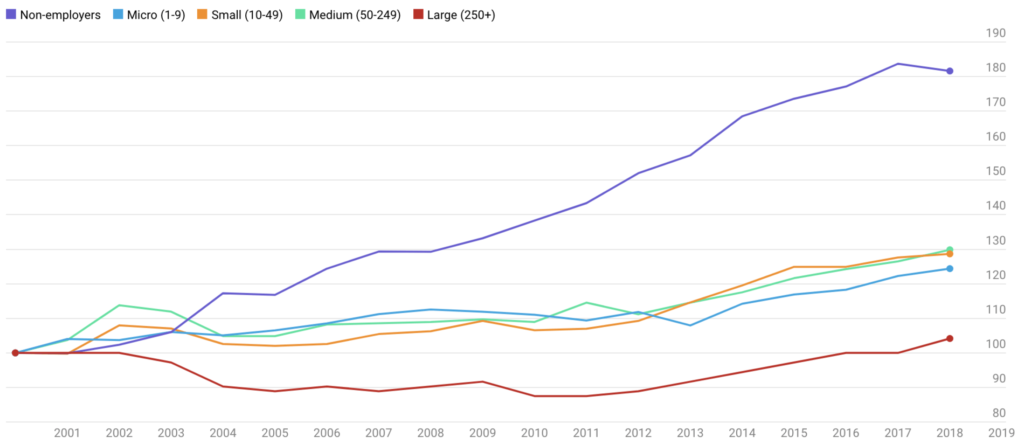 The chart below contains the same data but really highlights how many more people are now working alone as freelancers, contractors, self employed etc.
Growth in UK Employee Populations By Business Size Between 2000 – 2018

Unsurprisingly, London boasts the highest ratio of SMEs, which is calculated by comparing the number of businesses per 10,000 adult residents in each region of the country. According to Department for Business, Energy & Industrial Strategy figures, London has 1,563 businesses for every 10,000 adult residents, which is above the national average. In the United Kingdom, there are 1,059 businesses per 10,000 residents and there are three other regions that are above the UK average: the South East, South West and East of England
This leaves eight regions below the national average with the West Midlands, East Midlands, Yorks & Humber, the North West, Northern Ireland, Wales, Scotland and the North East all falling short.
These aren't the fastest-growing regions, though. The West Midlands is leading the growth race at an impressive 9% change on year, followed by Yorkshire & Humber (7%), Scotland (7%) and Northern Ireland (6%) – all of which are producing SMEs at a higher rate than London.
This helps the UK achieve an average annual growth rate of 4%, although this figure is held back by slower growth in the North East (-3%), the North West (2%), East Midlands (0%) and Wales (-6%).
Number of UK businesses in the private sector by number of employees (2000-2018)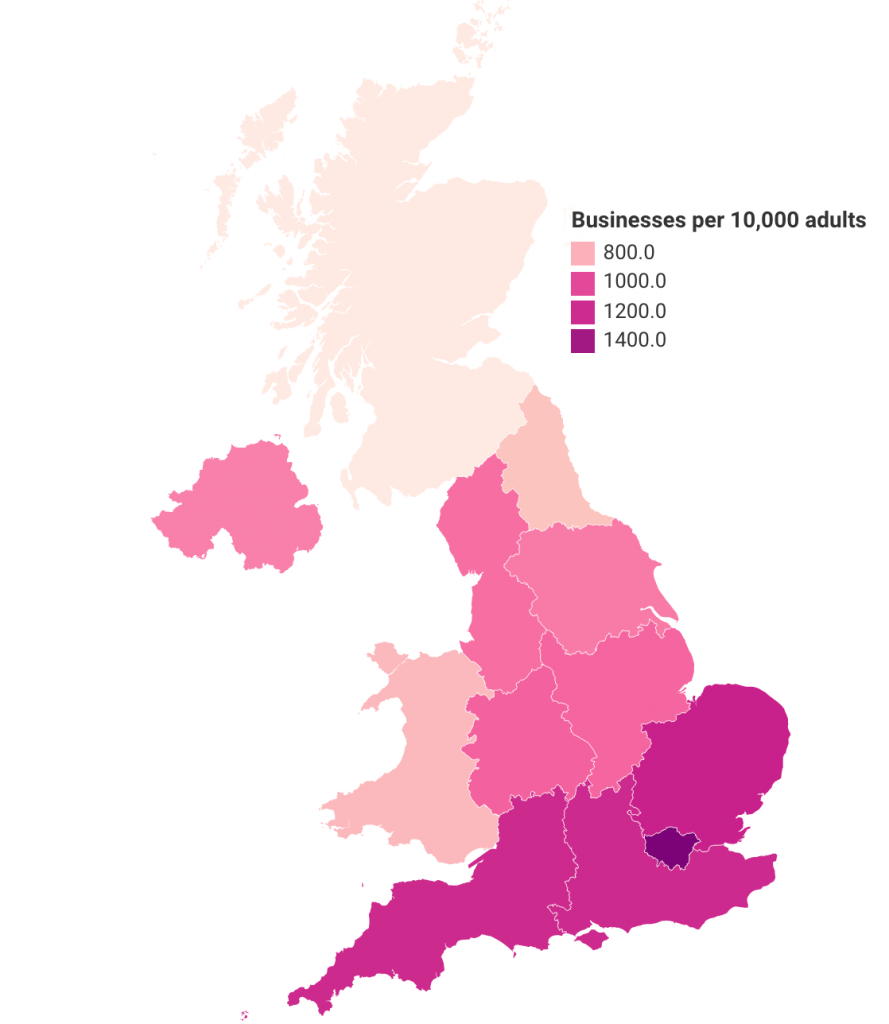 This means roughly a third of all UK business are located in London or the South East while the South West and East of England also produce a high rate of SMEs. Each of these regions are enjoying a similar annual growth rate of 3-4% in the volume of operating businesses.
Number of UK businesses in the private sector by number of employees (2000-2018)
Proportion Of Workforce (Business Size)
SME Employment & Turnover by Sector
By far the biggest industry for SMEs in the UK is the very broad services sector, which should come as no surprise. 74% of businesses in the UK are in the services industry but the construction industry accounts for 18% of all UK businesses and this is more than any of the individual sectors within the services bracket.
Within the services industry, there's the also-very-broad sector of professional and scientific services, which includes anything from legal services and marketing to architecture, veterinary practices and so much more – totalling 15% of all UK businesses.
However, retail is the standout sector in this list. Retail companies make up 10% of the entire UK business landscape, employ 19% of private sector workers and generate 33% of the turnover generated by all UK industries.
That's pretty incredible.
Now, let's take a step back to round off this section by looking at how much SMEs contribute to the UK economy. Of course, it's the big businesses who really rake in the money but there's no denying how important small businesses are to this country. When 99.9% of businesses in Britain are SMEs and they generate 51% of all UK business turnover, this tells you how important every company is – even down to the sole traders without any employees.
At the same time, SMEs employ 60% of the working UK population so there's no claim that smaller businesses aren't doing their part to provide jobs. And, let's face it: working conditions are often better at smaller companies anyway.
% of Total UK Employment & Turnover By Industry Sector (Start 2018)

In 2016, the combined annual turnover of SMEs in the UK was £1.9 trillion, totalling 51% of all private sector turnover for the year. The average SME with a turnover of less than £25M in the UK makes £8,000 profit per year as of 2016 according to a survey of 18,000 SME's of this size. However, there's a distinct correlation between the size of businesses and the median annual profit.
Due to the high volume of sole traders and micro-businesses in the UK, even companies without any employees remain very close to that £8,000 average. Companies with 1-9 employees make almost twice as much profit as those with no employees and the jump in profit for small businesses with 10-49 employees is almost four times as high.
As expected, medium-size businesses with 50-249 employees generate the most profit by far at almost £200,000 per year. These stats highlight the importance of expanding your business over time if you want to significantly increase your profit margins. It's very difficult for businesses to stay the same size and significantly boost performance.
Average Profit Of SMEs with a Turnover of Less Than £25M Q4 2014 to Q4 2016.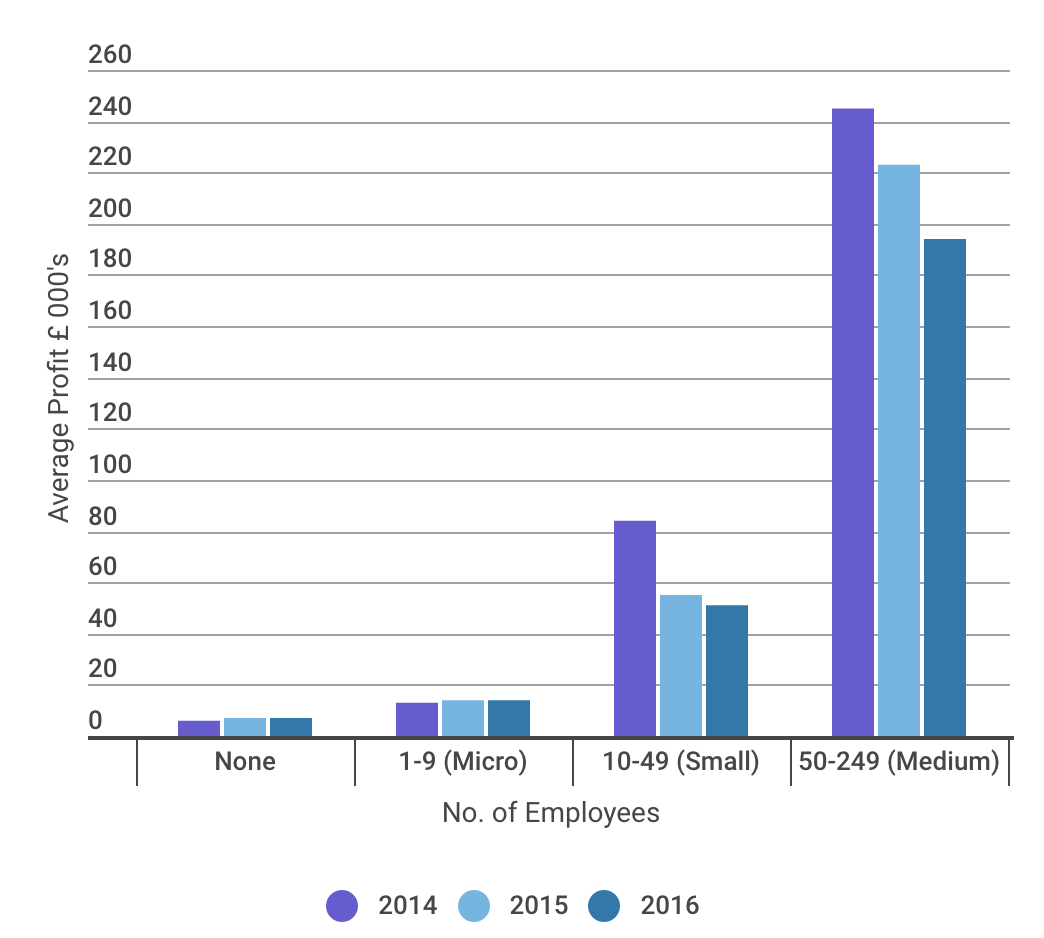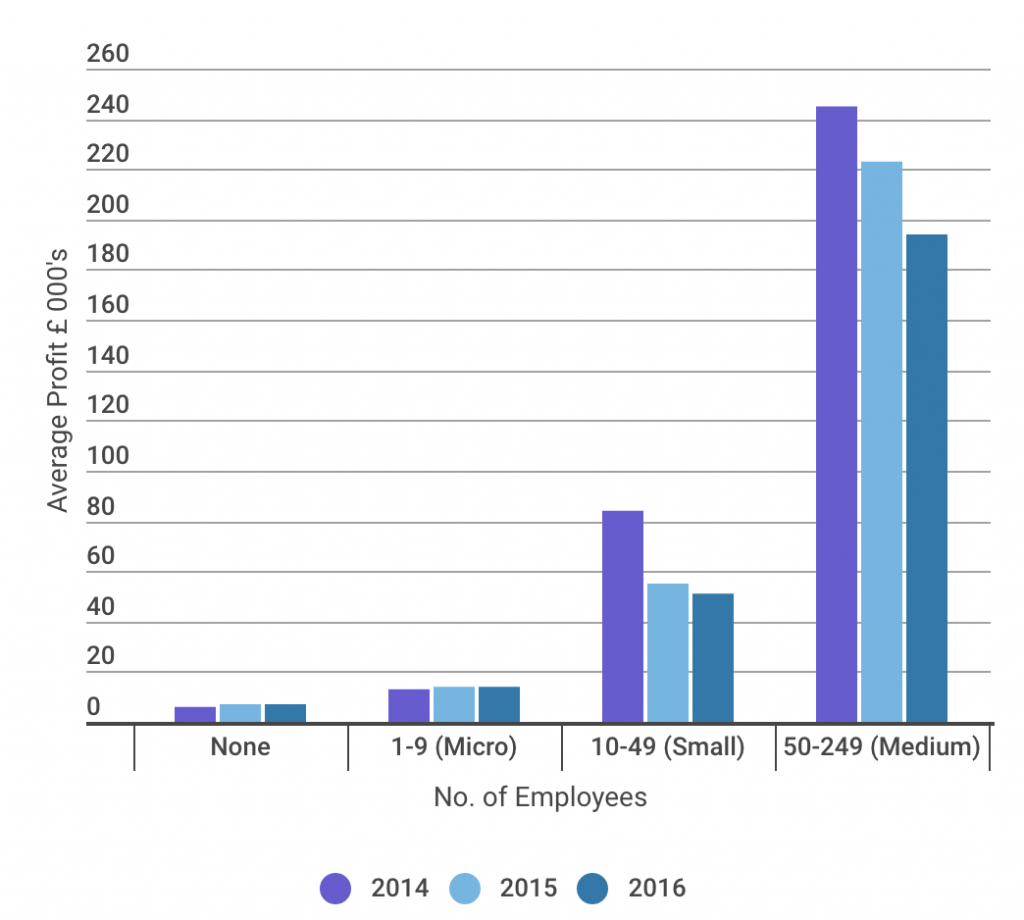 In fact, SMEs in the UK have collectively seen their profits drop within each size bracket. Only companies without employees increased or maintained their average annual profit margins between 2014-2016.
Delving a little deeper into a survey of 4,500 SME's with a turnover less than £25m by BDRC we can see that SMEs in the retail and hospitality sectors top the list of average annual profit.
Based on these figures, we can calculate that the average annual profit for UK businesses across these industries is £9,333. This tells us that retail and hospitality SMEs are generally the most profitable in the country while manufacturing, property and logistics companies should also expect to achieve profit margins above the median average.
At the other end of the scale, businesses in the health and social sector typically generate the lowest profit while construction falls just below the median average across all industries. However, we need to emphasis these figures are based on a survey of SME's and not made from annual returns so they won't represent actual figures for the whole of the UK. We will update this section if we can find more accurate data on how profitable SMEs are by sector.
Median Profit of SME's With a Turnover of Less Than £25m, By Sector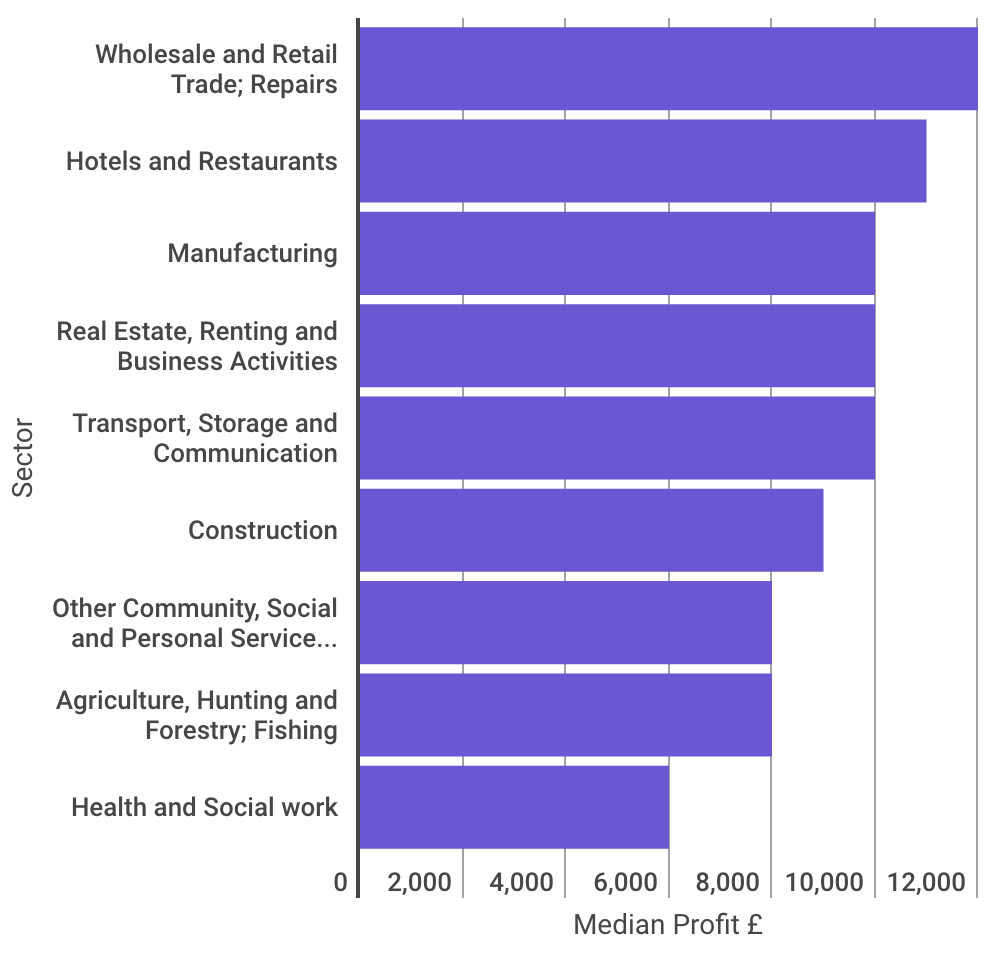 Securing funds is another major challenge for smaller businesses in the UK and, according to research from UK merchant banking group, Close Brothers, 46% of UK SMEs have experienced barriers when trying to access finance, making it difficult for smaller businesses in the country to grow.
Unfortunately, securing these funds is an ongoing problem for SMEs in the UK with the major lending banks often turning their backs on smaller ventures. This has lead to the growth in P2P lenders like Funding Circle who are making additional efforts to convince investors that they have solid risk management after the collapse of Lendy. 
In BDRC SME Finance Monitor report for Q4 2018, the most common source of external funding for British SMEs is bank overdrafts (19%), followed by credit cards (14%) and dependence on these sources is generally higher for companies with more employees. Meanwhile, only 7% of businesses question in the study say they were able to secure loans from major banks.
Given the problems small business owners have reported in obtained finance illustrated above, it's no surprise business owners and entrepreneurs are turning to alternative sources of funding, such as crowdfunding and business angels. In fact, "crowdfunding" was the most searched term related to business funding in 2017, which highlights the lack of support small businesses are receiving from banks.
Interestingly, figures show that the survival rate of small businesses who secure funds via crowdfunding is an impressive 79% in the UK – way above the average for new businesses. According to ONS statistics, less than 45% of new businesses in the UK last five years and this reveals a large disparity between companies who only seek funds through traditional methods and those exploring new avenues.
Of course, we need to be careful about drawing correlations like these. Perhaps business survival isn't so much related to where you're sourcing your funds from but how quick you are to react to industry developments and spot new opportunities – attributes you expect from companies seeking funds from alternative sources.
While the US still leads the race in terms of alternative funding, the UK is the undisputed crowdfunding leader in Europe with 37,000 active campaigns as of 2018 at a total transaction value of $148.8 million (£115m), according to figures published on Statista.
The same report calculates that the number of UK crowdfunding campaigns are increasing by 14.9% yoy and the transaction value is up by 17% yoy. According to this data, the average crowdfunding campaign in Britain generates $4,021 (£3,102) in 2018 but crowdfunding isn't the only form of alternative funding rapidly growing in the UK.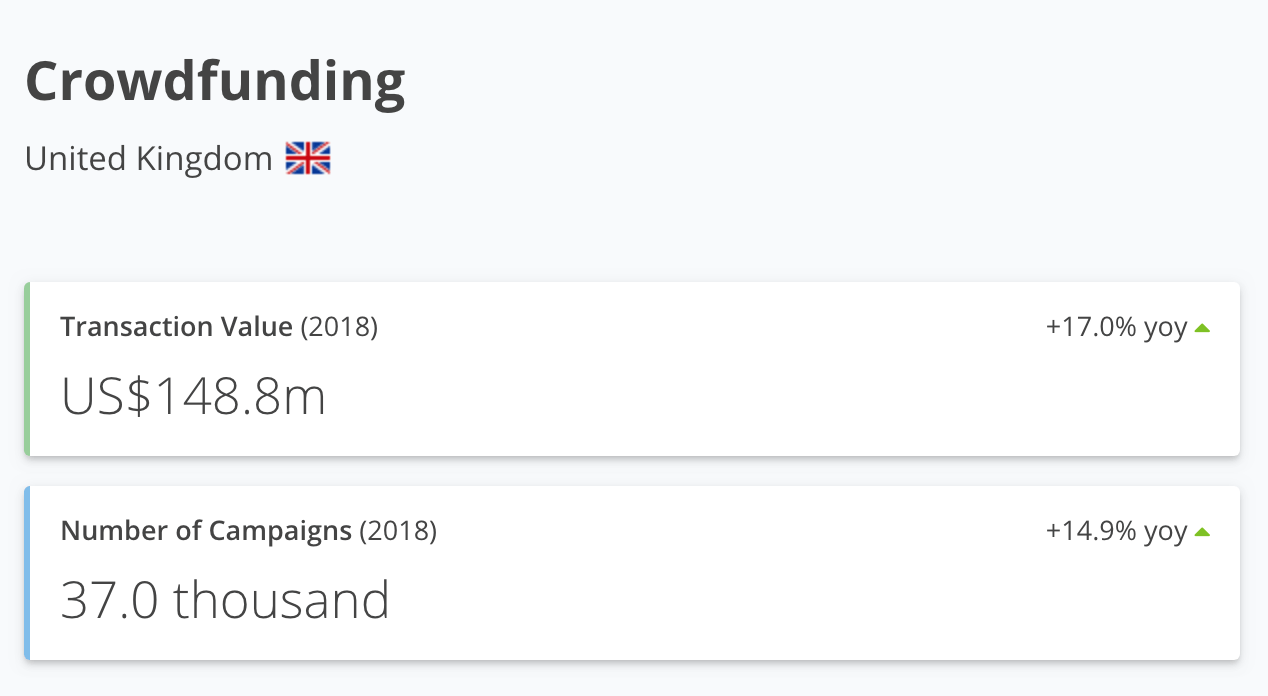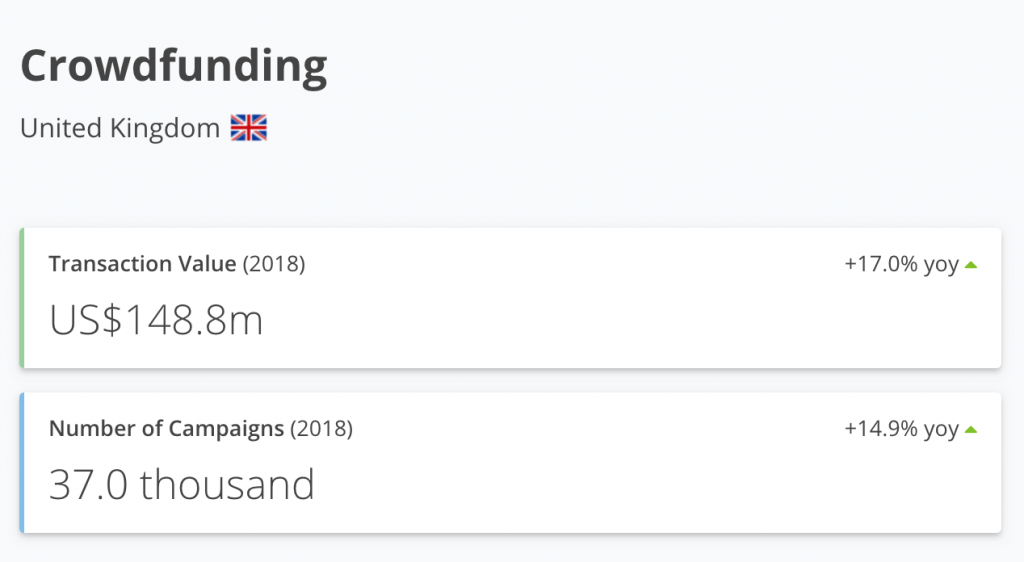 Business angels are people constantly on the lookout for enterprises with growth potential to invest in. This has become a major driving factor in the UK startup scene and Oxford Economics estimated that 15,000 angel-backed businesses emerged between 2010-2015. Collectively, they turned over £9 billion collectively, contributed £4.5bn to GDP and created almost 70,000 jobs.
A study into The UK Business Angel Market by British Business Bank published in June 2018 looks at who these business angels are and what they're investing in. According to its findings, this is the profile of the average business angel in the UK:
The typical business angel in the UK is male, white and are most likely to live in London.
The average age of respondents to the survey is 52 years old.
Business angels are highly experienced with 8 years of investment experience.
The median initial investment is £25,000 and the median follow-on investment is £7,500.
On average this typical angel spends 1.6 days a week in the new business they invest in and holds their investment for 6 years.
Typically, this angel makes effective use of the EIS and SEIS scheme.
In terms of the businesses these angels are investing in, technology sectors dominate the top of the list. Healthcare and digital health; biotech and pharmaceuticals; financial technology (fintech); software as a service (Saas) and eCommerce take the top fives spots.
If you can innovate some kind tech solution, even a relatively simple one that holds genuine growth potential, it's likely you'll be able to find the funds you need.
Sectorial distribution of business angel investment in 2016-17 (online survey of 586 business angels)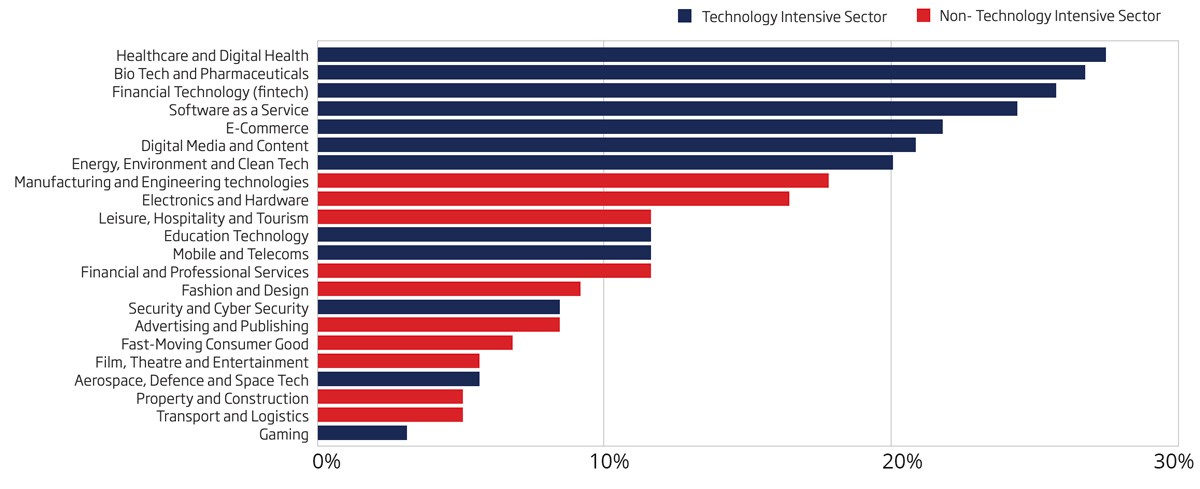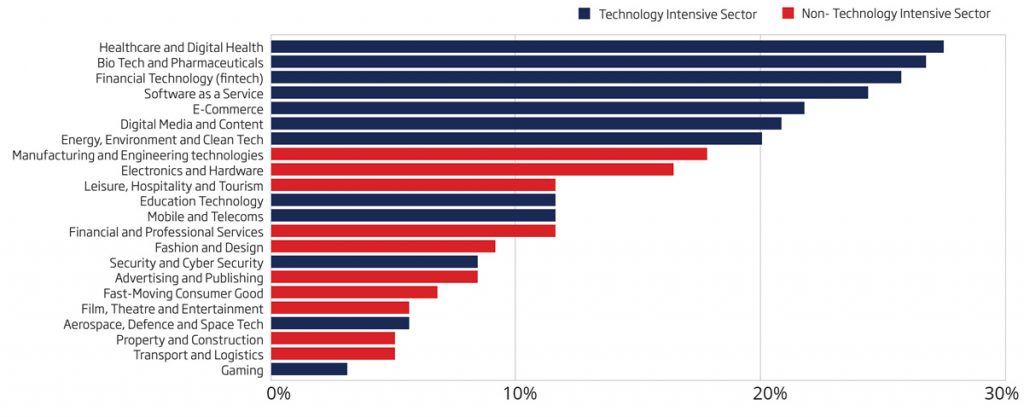 One final thing we should mention in this section of this article is that there are all kinds of government schemes, grants, contracts and loans designed specifically for smaller businesses. However, government data shows that there's only a 3% yoy increase in the amount of funds getting pumped into SMEs, despite these initiatives. Part of the problem is small businesses aren't applying for all of the funding initiatives created for them and SMEs could be set to miss out on £33.5bn worth of government contracts alone by 2020.
How Long Do SMEs Survive In The UK?
Survival Rates of UK businesses Born Between 2011 – 2016

Looking at birth and death rates at an industry level, each sector can expect an average of 11.6% of businesses to die each trading year but the number of businesses born is generally higher at 14.6%.
UK Business birth and death rates by broad industry group (2016)

That equates to almost 415,000 new businesses being born in the UK every year while 328,000 cease trading on an annual basis.
The most competitive industry in Britain in the professional, scientific and technical field with almost 550,000 active businesses in this industry and 86,000 new companies emerging every year. Despite the competitive nature of this field, the death rate for businesses in the industry remains just below the average at 11.3% but this adds up to 62,000 going out of business each year.
Things are also highly competitive in the business administration and support services sector, which has the highest birth rate in the UK at 23.1% and also one of the highest death rates at 15.4%.
The highest death rate belongs to the financial and insurance industry with 17% going out of business every year.
At the regional level, more than 100,000 new businesses are born in London every year – by far the highest number of any region in the country. Bearing this in mind, it shouldn't come as any surprise that the majority of business deaths occur in London with 82,000 businesses in the capital going bust every year.
What Are The Biggest Challenges For SMEs In The UK?
1. Attracting Customers Is the Biggest Problem for UK SMEs
According to a monthly survey of businesses conducted between Feb 2016 and Jan 2018 by Factworks, attracting customers is the biggest challenge for UK SMEs with 79% of the 537 businesses surveyed in Jan 2018 listing it as  their biggest concern. Of course, this isn't a new challenge for businesses but the nature of attracting customers has changed drastically over the past few decades and it's clear many businesses are still struggling to make the most of new opportunities and overcome new challenges.
Most important challenges UK SMEs face – January 2018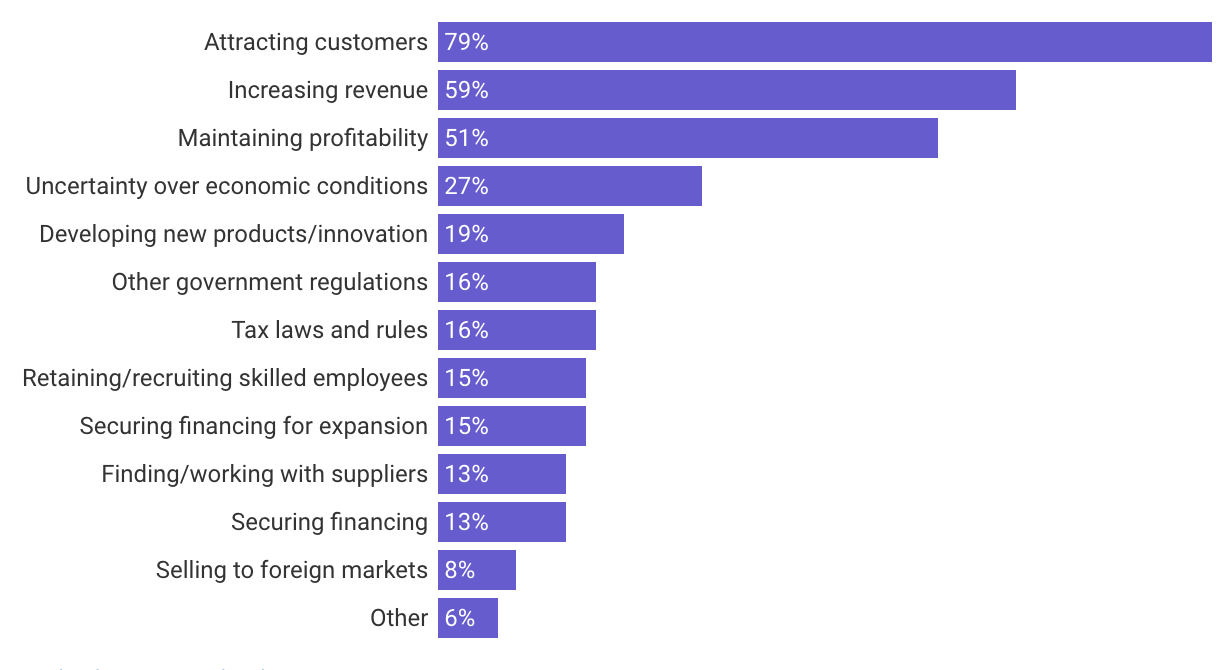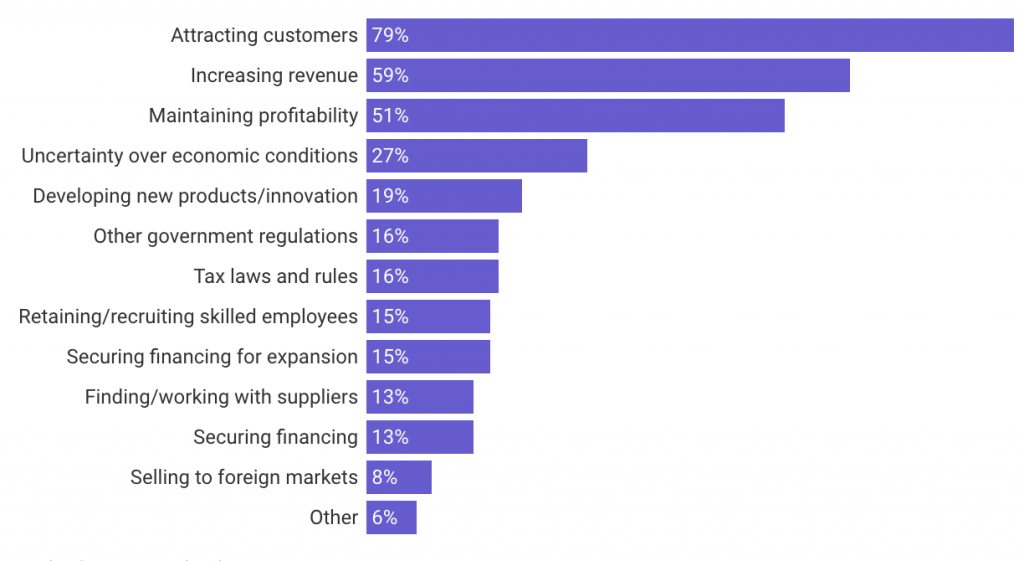 A similar report conducted by Plusnet and Startups.co.uk lists attracting customers as the biggest challenge for small businesses in the UK. The same report found 58% of SMEs in the UK spend less than 10% of their revenue on marketing while 27% of small businesses feel their existing strategies are less effective than they hoped.
The latest SME Growth Tracker report from Capital Economics says that 9 in 10 of all UK SMEs expect  to be selling online in some capacity in 2018 and 64% say they're already selling online. At the same time, though, separate reports suggest only 60% of companies in Britain are currently using social media as a marketing channel.
The good news is there are a lot of opportunities for British SMEs who understand how to use digital marketing channels effectively –
2. Getting Paid Is Still A Problem For Small Businesses
Unfortunately, attracting customers isn't always enough for businesses because it turns out getting them to pay can be a real problem, too. Research from Bacs Payment Schemes, SMEs in the UK lose more than £2bn every year due to late payments with roughly £14bn of payments still outstanding. While this is an improvement on the £30bn total from five years ago, it's clear that getting paid remains a challenge for smaller businesses in Britain.
Customers aren't the only obstacle here, either. With contactless payments being the favourite way for UK shoppers to pay in-store and the continued growth of online shopping, small businesses need the right technology on board to accept payments in-store, over the phone and online.
Of course, these digital payment methods don't come for free and merchant service providers don't have the best history of looking after smaller businesses. Luckily, this has improved a lot in recent years so be sure to check out our guides and reviews on mobile card readers and the latest payment tech designed for SMEs.
3. Underestimating The Costs Of Running A Business
In 2016, SME service provider Geniac (which has ironically since gone out of business) surveyed British SMEs owners and found that 64% of business owners underestimated their expenses for the first business year.
This really isn't a good way to get things started.
According to StartupDonut, the biggest operating cost for businesses are usually premises and staff – but this depends entirely on the nature of your business. If you're running a staffless eCommerce store, then perhaps neither of these costs apply to you.
That said, here are the most common expenses for small businesses listed by StartupDonut:
Premises and associated costs such as utilities
Stock
IT and other equipment
Office furniture
Branding
Business stationery and office supplies
Marketing your new business
Website development
Postage
Travel and transport
Phone and internet charges
Insurance
Professional fees
Wages for you and your staff
National Insurance and pension contributions
It all comes down to research and planning – plus making sure you have some extra funds into the kitty for any unexpected costs. It can be something as simple as needing to hire a new member of staff and coping with the disruption this causes, as well as the cost of hiring again.
4. Getting Stung By Small Print & Hidden Fees
Did you know that 30% of online shoppers intentionally over-purchase and then return items? This stat comes from Barclays, which reveals that 6 in 10 retailers are hurt by online shoppers' new buying habits.
The worst part is you're probably being charged a penalty by your card payments provider every time a consumer returns an item – just one of the many fees buried into the small print of contracts you sign as a business. Take it from us, payment service providers are specialists when it comes to hitting companies with additional costs and this is why we created Merchant Savvy in the first place.
For help with choosing a payment service provider that doesn't hurt you in the pocket, take a look at our in-depth reviews for UK payment processors.
Payment firms aren't the only companies with a habit of throwing extra costs into contracts either. Closely related are banks and overdraft fees are a common complaint among business owners but there are other quirky charges you might have to pay – for example, if you don't have a certain amount in your account or don't use it often enough.
Any loans you take out will also come with all kinds of small print and additional charges: service fees, guarantee fees, underwriting fees, origination fees and up-front payments are just a few examples of what you could be facing.
Always read the small print.
5. Failing To Get The Necessary Funds
We already covered this in detail earlier but there's no getting away from the fact UK SMEs have a problem when it comes to getting access to funds. As we say, make sure you know all of the government support options available to you and look at alternative funding options such as crowdfunding and business angels if you're not getting the answer you need from banks.
More than 50% of SME owners in the UK say they can't access all of the funding they need to grow but other issues like underestimating the costs of running their business and not knowing all of the funding options available to them are always going to make this worse.
Things Are Getting Better For UK SMEs, But There's Still Work To Be Done
All the government stats on SMEs show that small businesses are crucial to the UK economy and more should probably be done to help them thrive, let alone survive. Despite all the challenges facing small businesses in this country, the UK business population is steadily increasing and this is largely thanks to a high birth rate of small businesses.
Interestingly, the highest birth rate is among sole enterprises with no employees. However, we can also see a direct correlation between the number of employees and the ability for businesses to increase their profits. Survival remains a major challenge for the majority of UK enterprises and, even for those that go the distance, achieving sustainable growth can be even more difficult.
Getting access to the necessary funds is an obvious barrier for SMEs in Britain and government schemes have largely failed to change this. A growing number of SMEs are turning to alternative finance, such as crowdfunding and business angels to attract the investment they need to grow – and forecasts suggest this will become increasingly common over the next five years.
Finally, figures from the payment firms show small businesses in the UK are still struggling to get paid. Government efforts to reduce the SME late payment deficit are making an impact but there's still work to be done. Meanwhile, we hope to see more companies like iZettle and Square emerge, who provide affordable and flexible payment options designed specifically for smaller businesses.