Find the best card payment solution for your business by comparing leading suppliers.
Fill in our short form and
save up to 40% in fees.
Fill in our short form below (it only takes a minute) and
save up to 40% in fees.
Fill in the short form below to compare payment processors and
save up to 40% in fees.

Best Credit Card Readers For Small Businesses
When you want to take card payments from your customers face to face you basically have two choices – either use a stand alone mobile credit card reader provided by the likes of Square, SumUp or iZettle (see all suppliers below) or a larger credit card machine (aka PDQ machine or card terminal) that you have bought or rented directly from a card machine company or has been supplied to you by your merchant services provider such as Paymentsense, Worldpay, Lloyds etc.
The choice of which to use is normally down to the size of the business and monthly turnover. As a rough guide, the card readers generally only make sense for a Start-Up or SME than have a low turnover (less than £2,000 per month) as they charge higher transaction fees.
The reason mobile card readers are becoming increasingly popular with smaller businesses despite the higher transaction fees is that they don't require a merchant account, they are quick and easy to set up, they don't require a lengthy application process and they don't have no minimum contracts.
This article will mainly focus on card readers but you can find our more comprehensive guide on PDQ machines here.
Mobile Credit Card Readers
Typical Hardware Costs of PDQs & Card Readers
If you do decide to go down the PDQ route and pay lower transaction fees you then need to decide whether to buy or rent your card machines. This table gives you a rough idea of what you can expect to pay for various card readers and PDQ machines covered in this article. Don't be too put off by the higher figure in some of these estimations because you'll normally be able to get cheaper quotes by ringing around.
Make sure you also check the terms of any rental contracts for the usual warning signs: early termination fees, hidden charges and options to buy your machines.
Right, let's start getting into some detail by first looking at our favourite mobile credit card readers that allow you to take face-to-face payments almost anywhere you can get online.
Top 7 Mobile Card Card Readers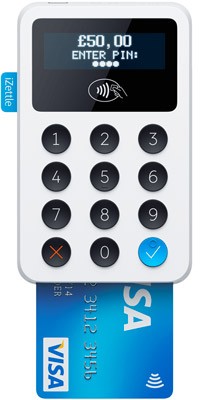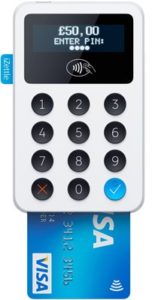 iZettle
brings a more comprehensive and powerful payment platform to the table for slightly larger-scale merchants. Much like SumUp, iZettle's card reader supports contactless and Chip & PIN payments from all the major card providers (actually a few more than SumUp) and payments through Samsung Pay, Apple Pay and Android Pay. A key selling point with iZettle's reader is speed. It quickly boots up within 2 seconds, processes payments in as little as 5 seconds and you get roughly 8 hours of active use from a single charge. This makes iZettle 25% faster than most mobile card readers currently on the market when it comes to accepting payments and your money will be deposited in your bank within 1-2 business days – also faster than most of the competition. Read our comprehensive
iZettle review here
.
Verdict:
iZettle's award-winning mobile card reader offers some of the fastest payment processing in the industry right now, along with extensive support for credit cards and mobile payment platforms. The company also offers a wider range of online payment solutions, making iZettle a good option for SMEs that sell to customers face-to-face and over the internet.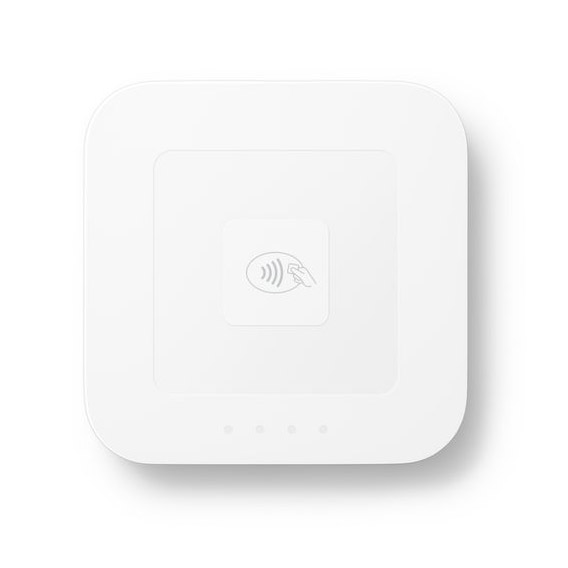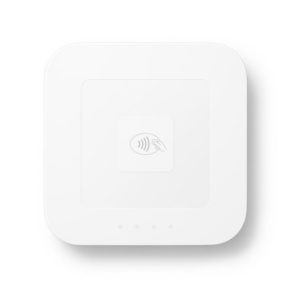 Square positions itself as a digital payment provider for businesses of all sizes with a range of demands and this includes mobile payments. The Square Reader is a truly pocketable mobile card reader for accepting contactless and Chip and PIN payments, as well as Apple Pay, Android Pay and Samsung Pay.
The Square Reader connects wirelessly to Android and iOS devices, allowing you to accept payments using the free Square app. The Square dashboard also provides you with sales reports, based on real-time data, so you can see all your transactions and deposits easily, in one place.
Payments are received in your bank account within 3-5 business days or only 20 minutes if you pay to upgrade to instant deposits.
Read our comprehensive Square Card Reader review here.
Verdict:
Square provides one of the most feature-rich mobile card readers and payment systems available without having to pay a monthly fee. Its free software offerings are unrivalled at this level and there's an entire suite of business software available on its paid plans. If you're looking an overview of how your business deals with mobile payments or need to expand with POS or employment manage management software, you'll want to take a look at Square.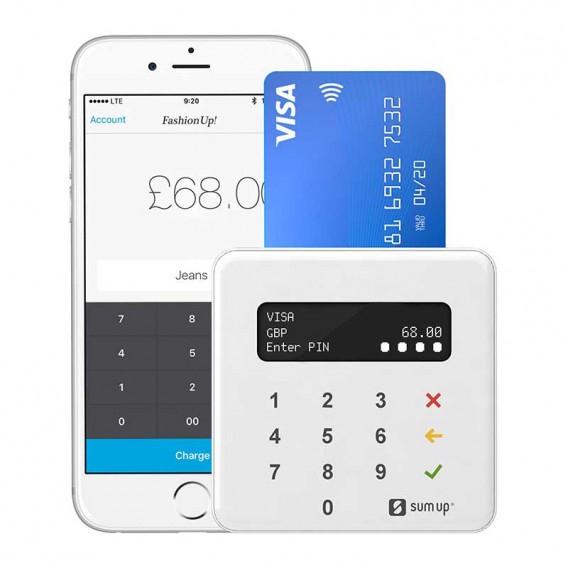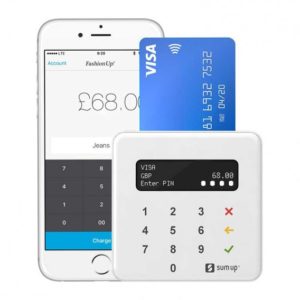 SumUp provides a mobile card reader for small businesses, sole traders and entrepreneurs who want to accept card payments on the go. This tiny card reader works entirely online, supporting payments by contactless (NFC) and Chip & PIN, as well as Apple Pay and Android Pay. All major credit cards are accepted and payouts to your bank account should be completed within 2-3 days.
The card reader itself is small enough to take with you anywhere, making it perfect for taking payments from customers outside of your business location. You also get a free app for iOS and Android, allowing you to accept payments via your smartphone or tablet. In terms of a mobile payments solution, SumUp offers one of the easiest platforms for small businesses to start accepting card payments and its pricing structure is refreshingly transparent.
Read our comprehensive Sumup review here.

Verdict:
SumUp is a great option for very small businesses, sole traders and entrepreneurs who want a cost-effective, simple and effective mobile payments solution. Its pricing policy is uncharacteristically transparent for a business in this card payment industry and we're happy to say you won't run into any surprise charges with SumUp and you'll do well to find a cheaper option as a small business with very low transaction volumes.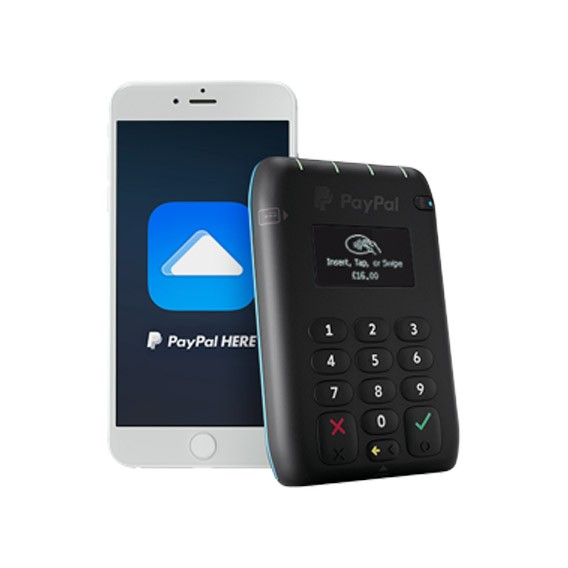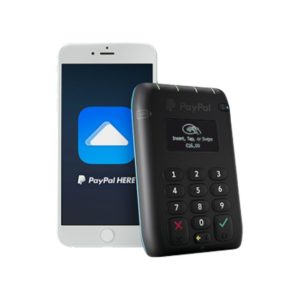 PayPal is one of the most trusted names in online payments and this something you can never ignore when you want people to buy from you. The company's reputation with merchants isn't quite as glowing (they rarely are with payment service providers) but PayPal has made a lot of progress over the decade.
This includes PayPal's mobile payment solution, which comes in the shape of PayPal Here and its own card reader device. PayPal Here gives you a modest countertop POS and mobile card reader for accepting face-to-face payments anywhere. It supports all major card providers plus Apple Pay and Android Pay.
Transaction fees depend on the total value of payments you process per month. Here's a breakdown of the PayPal Here pricing structure:
There's no contract or termination fee to worry about with PayPal Here and payments are received in your PayPal account within seconds – although you'll have to wait 3-5 business days for fund withdrawals to arrive in your bank account.
3.40% + 20p for card payments made by swiping the magnetic strip or manually entering the card details.
2.75% for Amex card payments with Chip & PIN, Chip & Signature, and Contactless functionality
Additional fees such as cross-border fees may apply.
Verdict:
PayPal Here offers a competitive mobile payment system and it can be a cost-effective choice if you process enough payments to get some of its cheaper rates. However, it comes with the usual PayPal complaints from merchants regarding customer service and withholding funds, despite progress being made in recent years.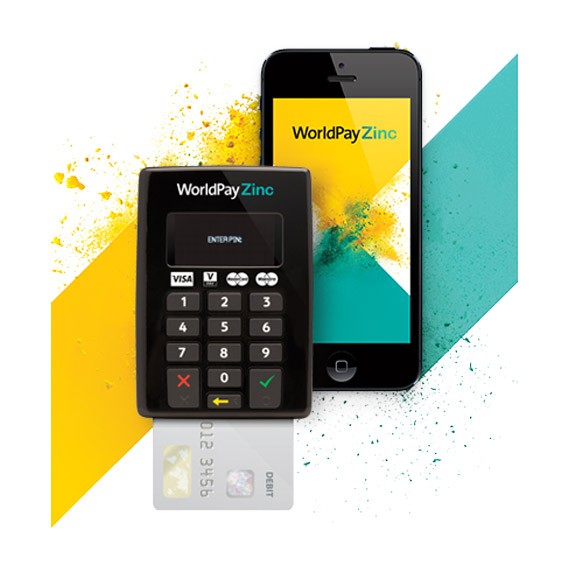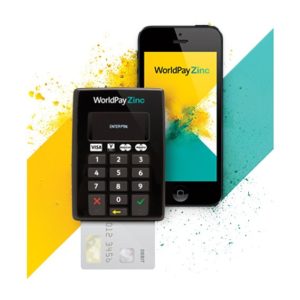 Update Feb 2019: Worldpay Zinc is currently no longer available.
Worldpay is one of the biggest players in credit card payments and its mobile services are always going to attract some attention. In terms of its Zinc card reader, you get Chip & PIN support for the UK's leading card providers and compatibility with Apple Pay and Android pay.
Compared to the devices offered by SumUp, iZettle and Square, Worldpay provides a basic mobile reader and it's disappointing to see the UK's leading merchant account provider put in so little effort here.
On the software side of things, Worldpay covers all the mobile essentials but it's pretty clear the company hasn't gone all out to provide a mobile-centric experience – for business owners or customers.
Transaction Fees
1.75% for Chip & PIN / contactless payments or
2.5% for online, invoice and typed-in card payments
Verdict:
As a payment service provider, Worldpay is undeniably a leading force but mobile payments don't appear to be a priority for the company. Worldpay Zinc covers all the bases for a business that occasionally needs a mobile system in addition to its usual means of accepting payments but there are better options of mobile payments are an important feature of your business.
Worldpay's many strengths lie elsewhere.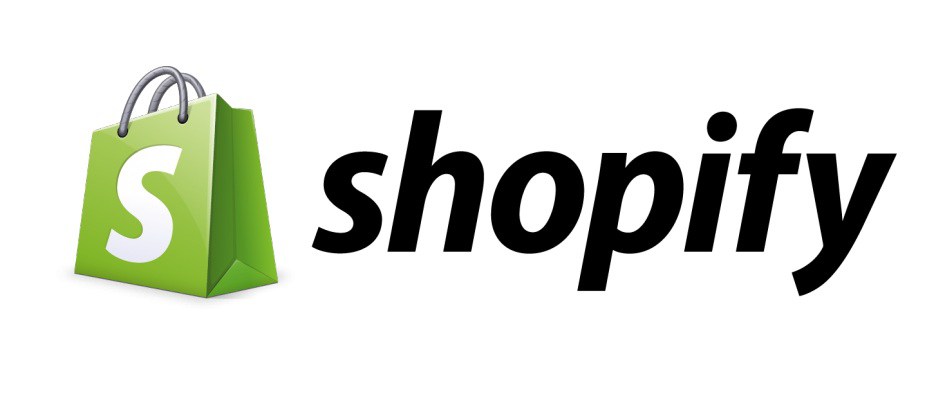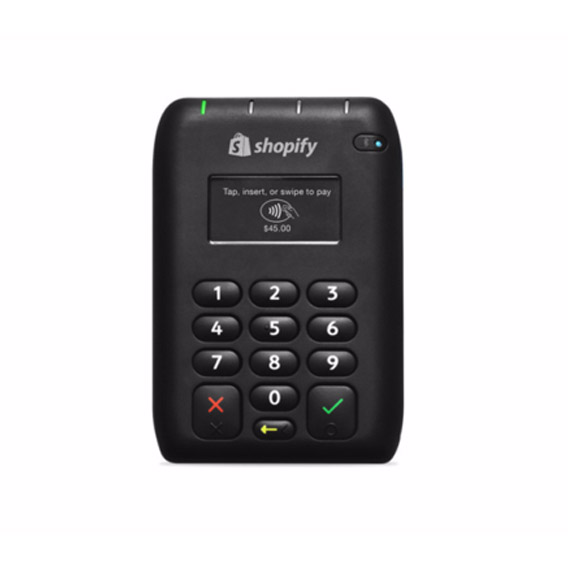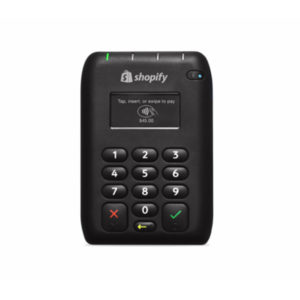 Shopify Payments is a frustrating option for UK merchants. It provides a solid mobile payment solution for Shopify store owners who want to accept face-to-face payments – ideal for store owners who also sell online using Shopify's ecommerce solution.
The only problem is its latest card reader isn't yet available in the UK and its old reader doesn't support the latest generation of devices (iPhone 7 and iPhone 7 Plus are the latest iPhone models supported).
This is a real shame, too, because Shopify offers a compelling.
Transaction Fees
1.7% per transaction for Basic Shopify users
1.6% per transaction for Shopify users
1.5% per transaction for Advanced Shopify users
Verdict:
Shopify is a great payment option for ecommerce brands using the platform to run their online store. It's just a shame support for UK merchants isn't up-to-date with those in the US and Canada – something we hope to see change as soon as possible.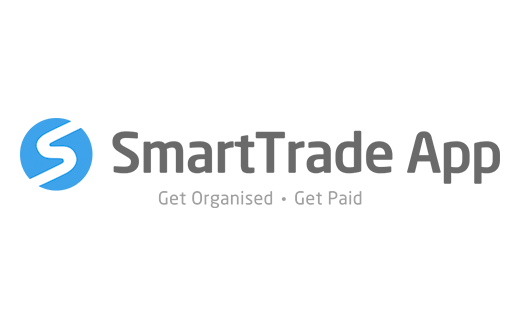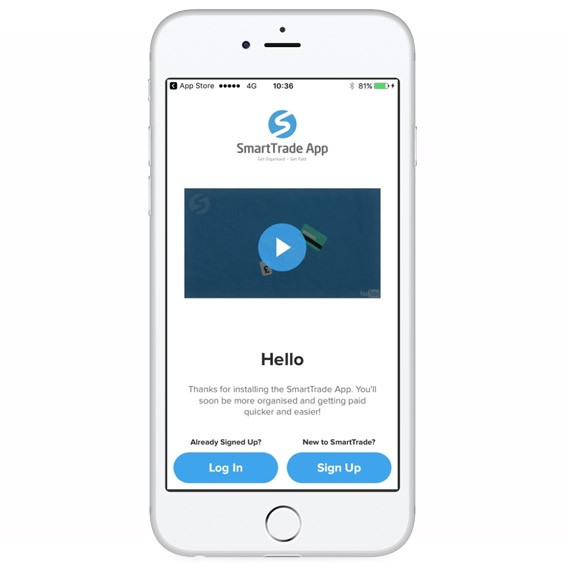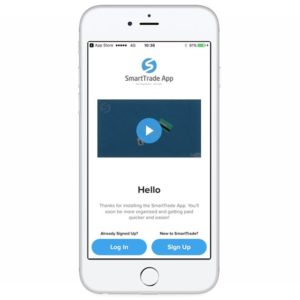 The mobile card readers we've looked at so far are great for small retailers (say, less than £1,000 in monthly card payments) or sole traders looking to take payments on the go. However, larger merchants accepting a higher volume of transactions are going to get a better deal by taking the PDQ machine route.
With SmartTrade you don't even need a card reader; you simply download the mobile app and turn your smartphone into a portable payment machine. The app is available for iOS and Android and you can also accept payments on PC and Mac using the SmartTrade App. You get three methods of accepting payments: face-to-face, over the phone and email paylinks – all of which are secured by SmartTrade's military-grade encryption technology.
Visa, Mastercard and Amex are supported, as well as all major foreign credit cards, although extra charges apply for non-EU cards (see payment details below). Payments take five business days to clear and this is reduced to three days if you turn over more than £30k per month.
While you don't pay for a card reader with SmartTrade, you do pay a monthly fee to use the service and prices are broken down into three account types:
For non-EU cards, you'll also have to pay an additional 1.5% surcharge on top of the regular fees.
Verdict:
SmartTrade makes accepting card payments incredibly easy and not having to worry about separate card readers is great. Business and Enterprise account holders can have multiple users accepting payment via their own smartphones but you have to pay for this convenience with monthly fees. Only you can decide whether these fees are worth it.
Most Popular PDQ Card Machines
The mobile card readers we've looked at so far are great for small retailers (say, less than £1,000 in monthly card payments) or sole traders looking to take payments on the go. However, larger merchants accepting a higher volume of transactions are going to get a better deal by taking the PDQ machine route.
These are the classic card machines you see in supermarkets, restaurants and the majority of businesses that accept face-to-face and over-the-phone card payments.
There are three main types of PDQ machines to think about: countertop PDQs, portable PDQs and fully mobile PDQs – all of which come with their own pros and cons. So let's take a look at these right now and recommend our top choice for each type of PDQ machine.
Countertop PDQs are ideal for retail merchants selling products in-store and accepting payment in fixed locations – normally a till or checkout of some kind. They're generally the cheapest range of card machines on the market and they're also the fastest, thanks to connecting directly to your phone or broadband line – so payments are processed in seconds. They're also hooked up to your main power supply, which means countertop PDQs are always on when you need them, without having to worry about charging your devices.
The only real downside to countertop PDQs is they're not very portable due to their wired connections. Whether this is a problem for you or not depends on how your business operates.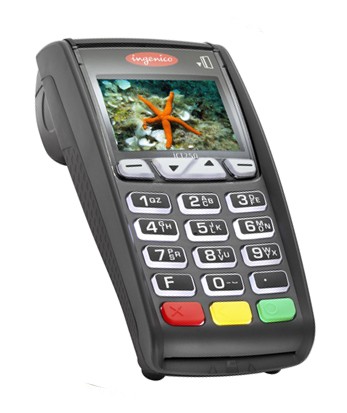 Our recommendation: Ingenico iCT250
If you're in the market for countertop PDQs, start your search with the Ingenico iCT250. This versatile card reader accepts payments from just about every card a consumer could possibly carry while also supporting contactless, NFC and Apple Pay. You can process payments, print receipts and run reports all from the terminal and automatic updates means your Ingenico iCT250 is always up to the latest industry standards.
This is one of the most flexible and secure countertops PDQ machines available right now so be sure to check it out.
Best for:
Restaurants, pubs and cafes where you want to accept payments from customers at their table.
As the same suggests, portable PDQ machines give you a little more room to work with when it comes to accepting payments. These are your best option if you want to accept payments from customers at their table so they can continue enjoying the end of their evening with minimal interruption. Portable PDQs aren't all that more expensive than countertops either, which means they're still an affordable option for relatively small and midsize establishments.
However, there's a limit to how much portability you get from their Bluetooth connections and you need to stay within range to accept payments. You also need to keep an eye on batteries to make sure you don't fall short of power at the crucial moment.
Our recommendation: Ingenico iWL252
The Ingenico iWL252 is a wireless credit card machine that combines portability with durability for merchants that need to accept payments in demanding conditions.
Aside from accepting all major credit cards and supporting contactless payments, it's a light but rugged unit with anti-shock and water resistance built in. It also comes with "store and forward" functionality, which allows you to continue taking a payment even after there's an interruption with your connection – an important feature for portable PDQs.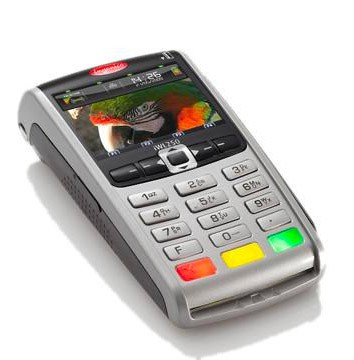 Best for:
Salesmen, home deliveries and events where payments need to be accepted in all locations.
Fully mobile PDQs give you the freedom to accept payments anywhere without worrying about cables or connections getting in your way. For sales reps travelling the country, delivery services or sole traders like plumbers who need to visit customers in their homes, these are the machines you want. As long as there's a mobile signal, you can collect payment from customers in any location and these are widely used at events where traditional connection methods can be a little tricky.
Flexibility is the obvious benefit but you'll have to pay significantly more to buy or rent fully mobile PDQs compared to countertops and portable machines. You also have to accept a slight drop in performance, too, as accepting payments over a mobile connection takes a little longer than machines hooked up to a phone line or broadband cable.
Slightly slower payments are better than no payment at all, of course.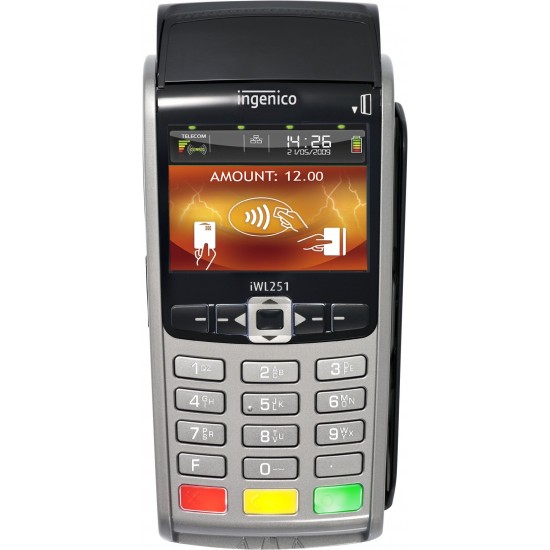 Our recommendation: Ingenico iWL251
Our favourite fully mobile PDQ on the market right now is the Ingenico iWL251. This pocketable mobile card machine accepts all major credit cards and supports NFC/contactless payments across a highly secure GPRS connection.
Its battery is designed to last all day and even the most active mobile merchants will find the iWL251 goes the distance. While the iWL251's printer is one of the fastest on the market right now, which helps cut down some of the waiting times associated with mobile PDQ machines.