Find the best card payment solution for your business by comparing leading suppliers.
Fill in our short form and
save up to 40% in fees.
Fill in our short form below (it only takes a minute) and
save up to 40% in fees.
Fill in the short form below to compare payment processors and
save up to 40% in fees.

Epos Now Review
Fees

8

Features

9

Ease Of Use

9

Support

8
Comments Rating
( reviews)
Epos Now Review
The UK's Fastest Growing EPOS Provider For Retail & Hospitality

Things we like:
Robust POS system
Easy to use
Dedicated features for retail and hospitality
Quality hardware options available
Pricing displayed on website
Things we don't like:
Extra charges for additional features
No import option as standard (you have to pay for the import module)
Poor customer service reviews
Epos Now is the UK's fastest growing EPOS provider, specialising in software and hardware for small businesses in the retail and hospitality industries. The company isn't only growing in size but also establishing itself as a market leader and it's hard to find a POS provider that offers the same quality of EPOS software and hardware with specialist features for retailers, restaurants and other businesses in the hospitality sector.
The hardware options are particularly impressive and, if you're after an all-in-one EPOS and checkout system, Epos Now is going to be a tempting option.
On the software side of things, you get a highly customisable and easy-to-use platform, and this is a design achievement in itself. Normally, customisation comes at the price of complexity but Epos Now has hit something of a sweet spot with its EPOS software in this regard.
At the same time, there are a few weaknesses in Epos Now's software that you should be aware of before you make any decisions. Whether these weaknesses matter to you or not, depends on what you need from an EPOS system but all will become clear by the time you've finished reading this review.
Epos Now Products & Services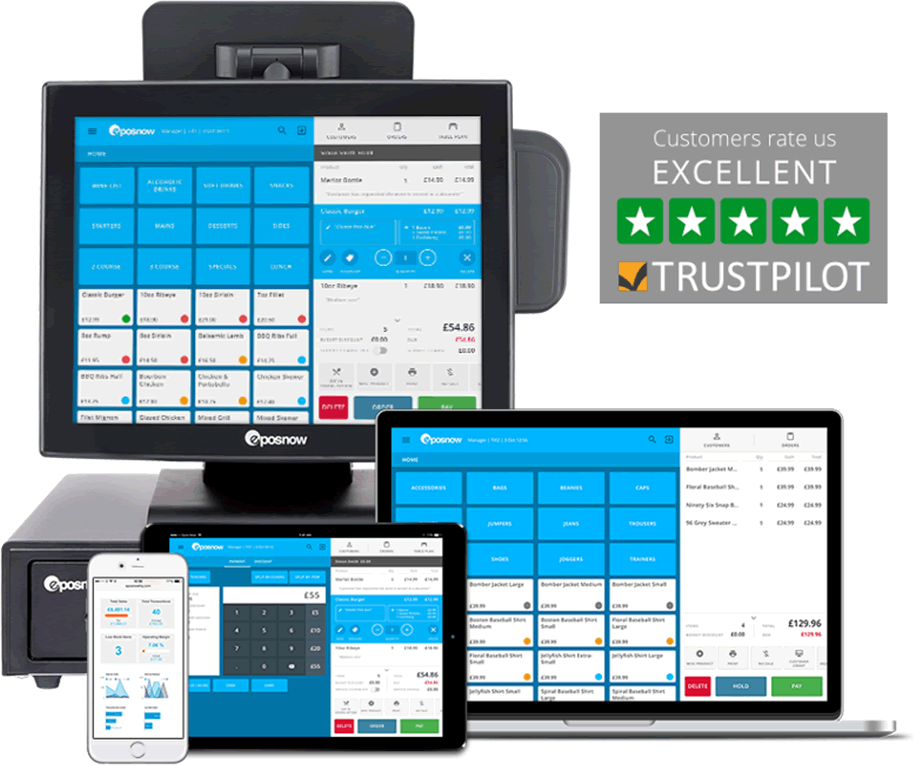 Epos Now is primarily a POS software provider but it also offers a solid range of hardware options if you want to set up fixed till locations. There are three ways you can set up Epos Now as a point of sale system. First, you can simply install the software on any compatible PC, Mac, iPad or Android device and use the POS with your existing hardware setup.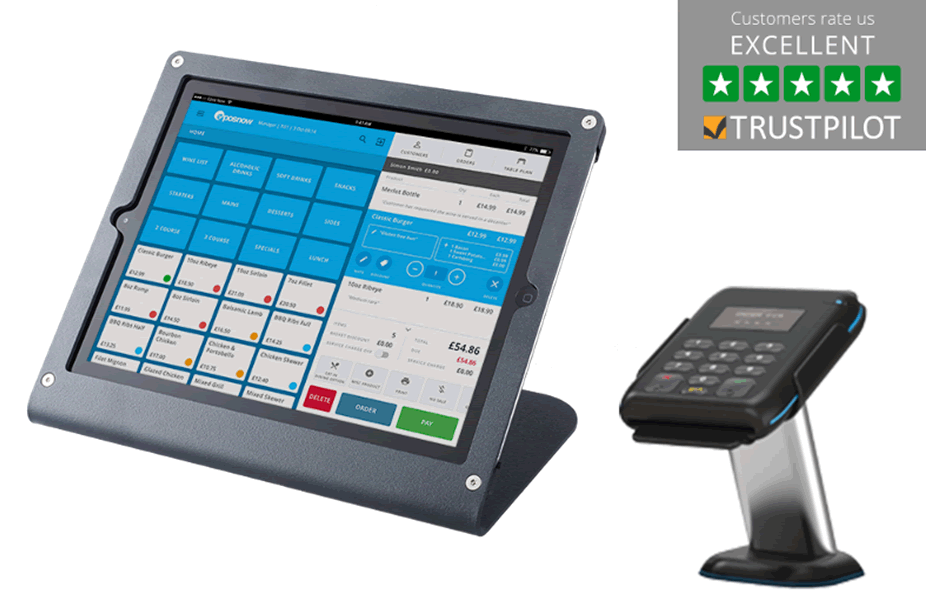 You can also create a basic checkout system using Epos Now on your tablet with a stand, which makes for a highly portable system if you combine it with a mobile card reader. Finally, if you're after a fixed till setup then Epos Now's complete systems with touchscreen terminals, cash drawers and receipt printers.
In terms of Epos Now's POS software, here are the key features you need to know about:
Integrated payments: Accept cash, credit card and debit card payments.
Inventory management: Create and manage your inventory of stock from any device.
Automatic purchase orders: Set up automatic purchase orders so you never run out of stock.
Authorisation levels: Create user profiles for your staff and set different authorisation levels.
Customisable dashboard: Customise your dashboard so all the data you need is accessible.
Real-time reports: Keep track of products, sales and employee performance – all in real time.
Cross-device: Manage your system from any device, anywhere in the world.
Repeat business features: Create profiles for customers, offer special discounts, run loyalty points programmes and other incentives to keep customers coming back for more.
Epos Now tailors its POS system with specialist features for retail and hospitality brands, so let's take a quick look at what's on offer.
Promotions: Run promotions for specific items or product categories.
Barcoding: Create, customize, and print barcodes for your products.
Pay on account: Assign credit limits to regular customers.
Online store integration: Sync with your eCommerce platform to keep your inventory up-to-date.
Epos Now Hospitality Features
Online booking system: Ideal for hotels and B&Bs.
Table management: Create a table plan that matches the layout of your restaurant and manage orders by table.
Promotions: Create meal deals, happy hours and other promotions easily.
Split bills: Give your customers the choice to pay separately or all together.
Raw ingredient management: Keep track of ingredients and manage stock based on customer orders.
Loyalty features: Reward points systems with branded cards for repeat customers.
That's a pretty solid offering for most retail and hospitality businesses but there are some key features missing, such as a virtual terminal that can be useful for retailers to accept payments over the phone. There are also some fairly basic features missing, such as bulk imports for inventory management, which should be a standard feature.
You can get bulk imports but you have to pay an extra fee for this module and this brings us to the main downside with Epos Now's software. You have to pay extra for a number of specific features, such as email marketing integration or accounting features, and your total cost can easily end up being more than the standard monthly fees you expect to pay.
A lot of these features are available as standard with other providers and there are a number of specialist retail and hospitality POS providers who offer a lot more in terms of features.
If Epos Now offers everything you need as standard, this isn't a problem but you will need to do your homework to get a definitive answer on this.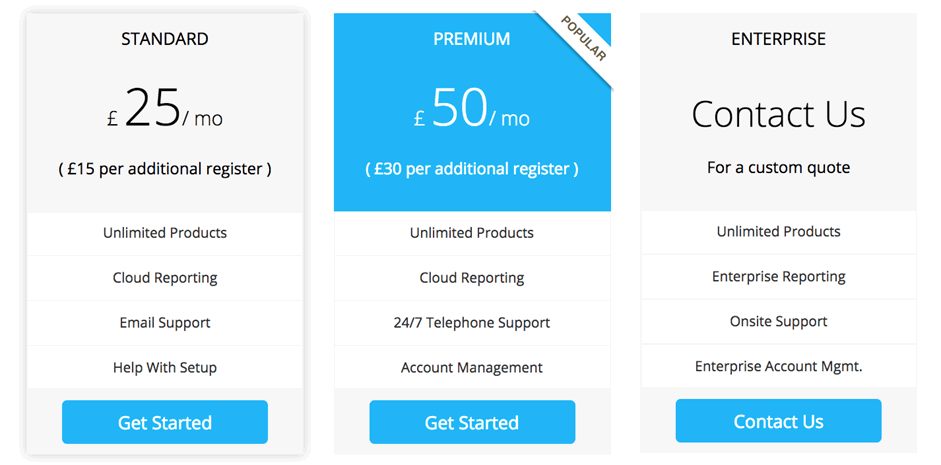 Unlike many POS providers, Epos Now openly displays its fees on its website, which we always like to see. Another major plus is that every version of Epos Now allows you to manage an unlimited number of products, users and customers.
The problem is Epos Now doesn't list which features are available on each plan and we've heard some customers get caught out by this.
Features aside, the key difference between each version of Epos Now is the level of support you get. With the Standard version of Epos Now you only get help with the initial setup and you're limited to email support from there on. On the Premium package, you get 24/7 telephone support and dedicated account management while the Enterprise version gets you enterprise reporting, on-site support and enterprise account management.
Epos Now Contracts & Early Termination Fees
Epos Now operates on a monthly subscription payment system, which means you're not tied into any contract for the EPOS platform. This also means you don't need to worry about any early termination fees but you will be integrating Epos Now with some kind of merchant account provider and this is where you need to be careful about contracts.
There are a growing number of contract-free payment providers, such as iZettle, Square and PayPal Here – and you should definitely take a look at these if you process a relatively small amount of card transactions. Epos Now fully integrates with iZettle and PayPal Here although we have heard some reports of bugs when it comes to updates and new features.
If you're handling a high volume of card payments, however, you'll probably get the best transaction rates with a dedicated merchant account. This means going directly to an acquiring bank or (more likely) an ISP that will set you up with a merchant account from its network of partner banks.
Either way, these companies normally operate on a contractual basis with early termination fees. So, while you don't need to worry about these problems with Epos Now, it's important to understand what kind of payment processor you're integrating it with and the contractual requirements it comes with.
Epos Now Sales & Transparency
As we mentioned in the Epos Now fees section, this is one of the few POS system providers to openly list its fees on its website and we commend the company for that. The problem is, the website doesn't make it entirely clear that a lot of the integrations and add-ons require you to pay additional fees and these can quickly stack up.
You also need to keep in mind, the demo version of Epos Now comes with all features available – such as product data import – but they aren't all available with the standard paid version.
Hopefully, you can speak to a sales rep to find out exactly what you're getting and reviews of the company's sales team are generally positive although there are some reports of false promises being made and misleading information being provided. In most cases, these complaints revolve around sales teams telling customers Epos Now will integrate with their existing system and then running into problems.
Epos Now Customer Service & Technical Support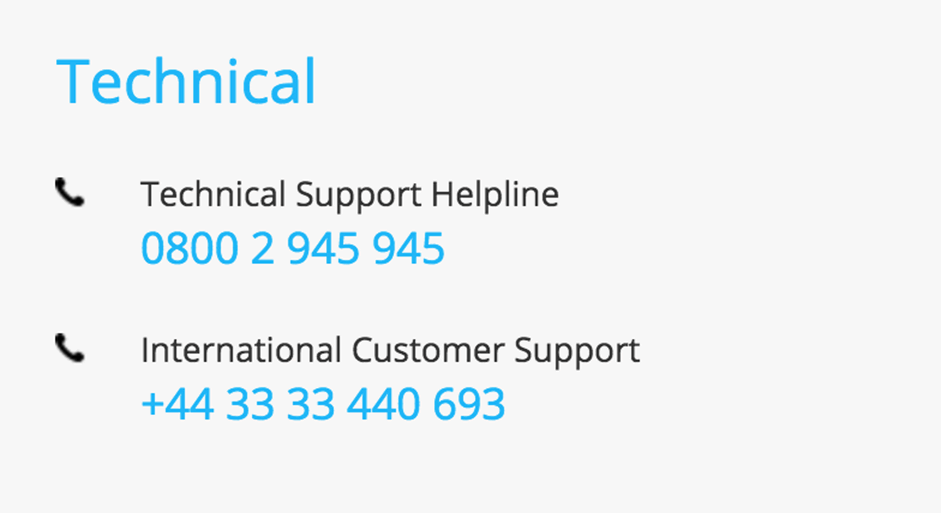 By far the most common complaint about Epos Now relates to the company's customer service. In fact, even a lot of customers who leave positive reviews about its overall products and services leave a note about it being difficult to get a fast response from the customer service and technical support teams.
Essentially, customers who don't run into any technical issues tend to have a very positive experience with Epos Now.
Unfortunately, it's the customers who do run into problems and need to deal with its technical support team that tend to have a lesser opinion of the company. Even customers who are paying for premium support commonly complain about the time it takes to get a response from either team and this can be particularly frustrating when you run into technical issues and integration problems. Another common problem appears to be the time it takes for technical support to successfully fix issues, during which customers continue to be charged.
That said, there are also plenty of positive reviews about the company's support team and a number of staff members are mentioned by name.
Epos Now Reviews & Reputation

That said, we have to take sites like Trustpilot with a pinch of salt because companies can pay to get a certain level of control over the reviews that display on their profile.
What we can say for sure is that a lot of customers are happy with Epos Now's software and hardware combination. The company gets a lot of praise for how easy-to-use its software is and although there are a lot of mentions about technical problems with hardware and integrations, most reviews citing issues suggest they were solved accordingly.
What we can't tell from online reviews is how much of the negative feedback is actually visible. While most complaints start with technical and integration issues, it's really the way these problems are dealt with that anger Epos Now's unhappy customers. Aside from customer service and technical support issues, the other most common complaints revolve around the sales team and customers not ending up with the system or feature set they expect.
Epos Now offers a solid combination of Epos software and hardware with specialist features for businesses in retail and hospitality. Its key selling points are the easy-to-use POS platform and the quality of its complete system hardware setups that are a standard above most offerings for small businesses at this level.
In terms of features, you get quite a lot for your money but there are some key features missing that other providers offer as standard. Whether you need or want these features is for you to decide.
Features aside, the only other potential drawback is some complaints that suggest customer service and technical support might not be a strong point for Epos Now. This will be particularly disappointing if you're paying for the premium versions of its software which claim to offer premium support but it's difficult to know how common these issues are when the majority of online reviews are highly positive.