Choose The Best eCommerce Platform For Your Online Business
WooCommerce and Shopify are two of the most popular eCommerce platforms, helping millions of retailers sell their products online. They are both highly capable solutions offering some of the best eCommerce features on the market and a range of tools to help you create and manage your online store.
At a glance, WooCommerce and Shopify can appear to have a lot in common – after all, they're both designed so you can sell online. And, while they do have a lot of similarities regarding features, the two platforms handle website building and maintenance very differently.
In this comparison article, we're going look at everything from features to pricing and the marketing tools each platform offers – so you can choose which one is right for your online business venture.
Shopify has become incredibly popular among UK online retailers over the past five years and you only have to look at Google Search trends to see how much interest has spiked over the past half decade.

This may not come as a surprise due to its marketing prowess (and budget) but it genuinely has evolved into an amazing platform that truly simplifies the process of creating and running an online store. For retailers who don't want to get involved in the technical side of things, Shopify is a great choice.
On the other hand, WooCommerce is designed with a different kind of retailer in mind. First of all, it's a WordPress plugin, which means you'll need to host a WordPress site before you can use it. Running an online store with WooCommerce is a more hands-on experience than Shopify but this manual approach gives you full control over customisation and additional features.
Both of these are great eCommerce platforms but they each have their strengths and weaknesses


That gives you an idea of what separates these two eCommerce platforms but let's go into a little more detail to help you choose between them.
How Are We Going To Compare WooCommerce & Shopify?
There are a lot of things to consider when you're weighing up different eCommerce platforms. What you don't want to do is dive right in and start working with one of them to suddenly realise it's not capable of doing what you need, it takes too long to get things done or there are additional costs you didn't anticipate.
To help you avoid making this mistake, we're going to compare everything that matters most in platforms like WooCommerce and Shopify:
How much they cost
Interface and ease of use
Themes
eCommerce features
Payment gateway support
Apps, plugins and integrations
Site maintenance
SEO features
Content management features
Customer service & technical support
Once we're done looking at these factors, you'll have a good understanding of what each platform is good at and where they're not so capable. You'll also see how fundamentally different they are in so many ways and choosing between them will become much easier.
WooCommerce vs Shopify: How Much Do They Cost?
Shopify Prices
Shopify has a relatively simple pricing plan but the company still charges UK businesses in US Dollars, which means your exact fees are going to vary a little from month to month.
All three versions of Shopify give you an online store and a blog, unlimited products, 24/7 UK-based support, sales channels, manual order creation, discount codes, fee SSL and abandoned cart recovery features.

However, the number of accounts you're able to create for staff members is limited to two on the basic version, five on the regular and 15 on Advanced Shopify.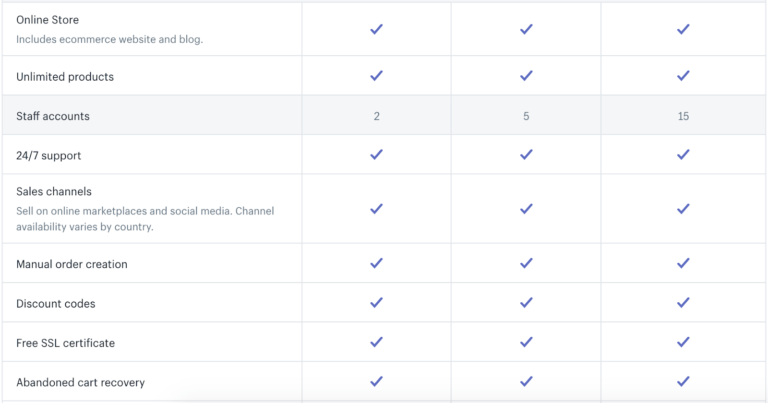 You also miss out on gift cards and reports on the basic version while advanced reports and calculated shipping rates are both reserved for Advanced Shopify.
Shopify pricing becomes a little more complex once you start to accept card payments from your customers. The company has its own payment processing service called Shopify Payments, which is great if you're happy to use this inclusive feature.

The problem is you have to pay a transaction fee for using another payment provider, which will add to your overall processing costs. Keep in mind, you'll also have to pay for a Shopify theme, which can easily cost £90+ and apps/extensions to add the features you need (some of these are free, others are paid monthly).
On the face of things, Shopify's pricing is extremely simple and good value for money – except for Shopify Advanced, perhaps. But your overall costs can add up to a lot more than the monthly prices listed when you first sign up.
If you think Shopify's pricing isn't straightforward enough, then things are even more complex with WooCommerce. While WooCommerce itself is free (until you pay for extensions), you first need to set yourself up with a WordPress site and this is going to involve some costs.
While there are cheaper hosting options and free WordPress themes available, any serious eCommerce business is going to want fast, secure hosting and a professional WordPress designed for selling online. There's also a good chance you're going to need to hire a developer or agency to customise your WordPress website, unless you're happy to do this yourself – in which case, you're spending time instead of money.
Setting Up Your Online Store
The process of setting up an online store with Shopify and WooCommerce is very different. Shopify really simplifies the entire process while WooCommerce makes more things possible if you're willing to put the work in (or pay to have it done for you). This is the key thing to understand about choosing between the two platforms: it's very much a case of speed and convenience vs control and flexibility.
Interface & Ease Of Use
Shopify's interface is relatively clean and minimal while navigating between different parts of the dashboard quick and simple. The interface isn't that different to WordPress in all honesty but it does feel easier to get things done.
Setting up your site with Shopify is where you'll really enjoy the best of the platform's benefits. You've already got hosted sorted and you can claim your domain, set up SSL encryption and setup your site all from within the same interface.
You can have your site set up within a matter of minutes and all you need to do next is choose your theme to work with.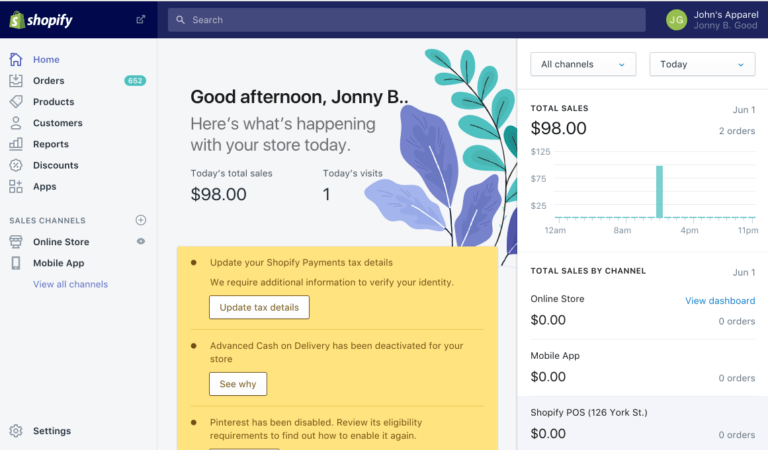 The most time-consuming part of creating your store is going to be adding the custom content and images. Hopefully, you've already got your product data stored in an CSV file – otherwise, you'll be better off doing it now, in case you ever decide to move to another platform.
Click Products in the left-hand menu column and then click Import to upload your CSV file to Shopify. Once you've selected your CSV file, a preview box with pop up so you can check the correct data is showing up in each field (title, description, etc.) before you start importing.
It may take up to five minutes for the upload to finish but your product listings should look something like this in the Shopify dashboard, once you're done.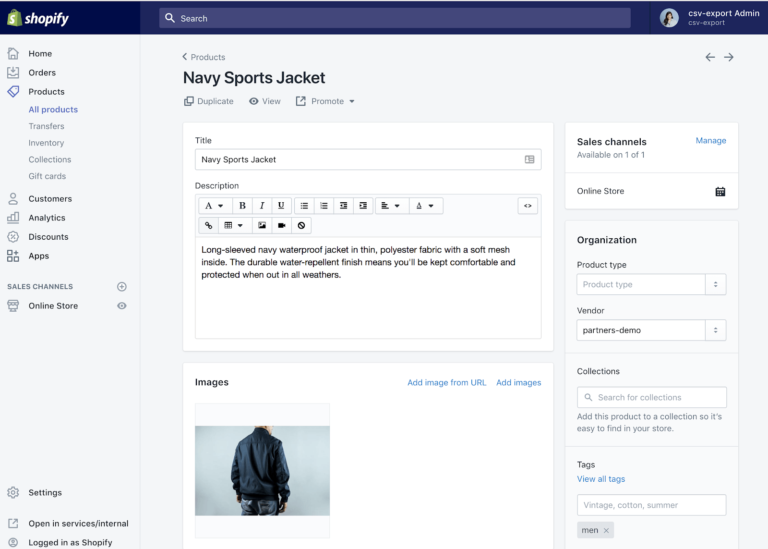 If you've already got your page content written and images ready to upload, you could have a basic store set up within an hour and even more complex stores can be completed within a day.
Things are going to take a lot longer with WooCommerce and the process is going to start with downloading WordPress, getting a hosting service provider, buying a domain name and then setting up your site.
Next, you'll need a theme to work with and WooCommerce's own Storefront theme is a good option for testing but not really the design many will want to promote in public. It is much better to purchase a premium theme for around $40-$120. The 1200+ WooCommere themes available at Themeforest are the best place to start looking. Alternatively, get one custom coded if you have the budget.
Once your site is up and running, setting up your store is pretty much the same as Shopify. You can upload a CSV file containing your product details (recommended) or add products manually in the Products tab of the WordPress interface.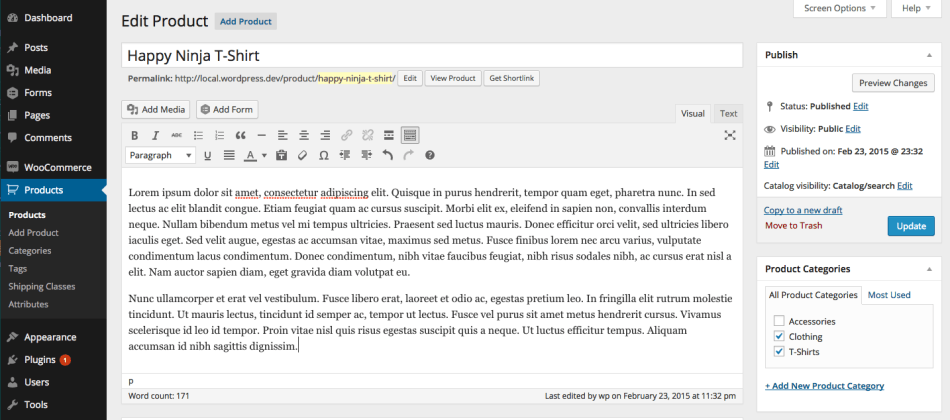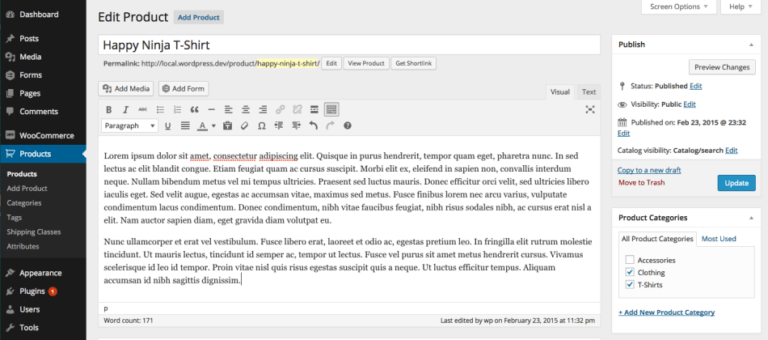 The whole process is going to take longer than Shopify and most of this comes down to the fact you need to set up hosting and everything else yourself.
Themes
WooCommerce Themes
WooCommerce's Storefront theme integrates perfectly with its plugin while giving you all the flexibility you need to create any kind of online store but its design is somewhat basic. They do offer better designed child themes for storefront for a small fee but they are somewhat limited in design quality and choice so I'd advise to headover to themeforest to look at their 1200+ WooCommerce themes.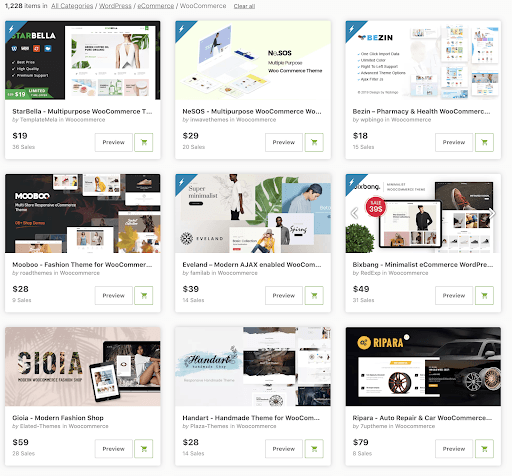 If you take this approach, just make sure you choose a theme that's got plenty of reviews and previous customers. Also check out the comments section to see how quickly the developer responds.
Shopify gives you far fewer options in terms of themes and they tend to be more expensive than WordPress but quality is what we are looking for.
Shopify Themes
With Shopify, you can choose any theme from its library knowing it has been designed and built by the company's in-house team to the same standards as everything else. The downside with Shopify themes is they're not very customisable without solid coding knowledge and they're built using its own version of PHP, called "Liquid".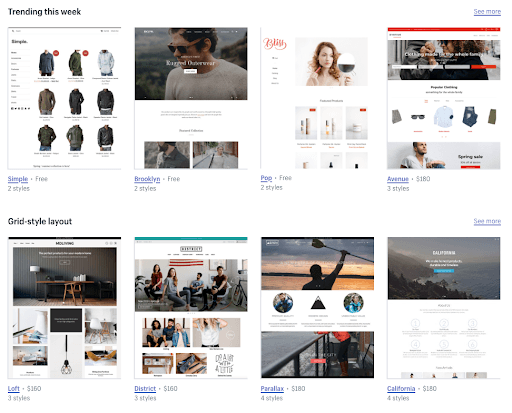 You have to be a little more careful when choosing a WordPress theme from third-party developers but you get a lot of customisation options without needing to write any code. You can code your own customisations for 100% freedom, in which case you'll also be working with WordPress' own adapted version of PHP, but WordPress code is much easier to work with and widely known by a large community of developers.
Ecommerce Features
WooCommerce and Shopify are two of the most powerful eCommerce platforms on the market but there are some important differences when it comes to features. In this section, we're going to look at these differences and help you figure out if they impact your decision.
In terms of selling products online, there isn't much to worry about with either of these platforms. One advantage with Shopify is you get cart abandonment recovery on every plan, which is an important feature for any eCommerce brand. However, you can add this to your WooCommerce store with plugins or third-party integrations and this is true for almost any eCommerce feature imaginable.
If you're paying for Shopify Advanced, you're going to get a better feature set by default but WooCommerce allows you to add the features you need and forget about the rest.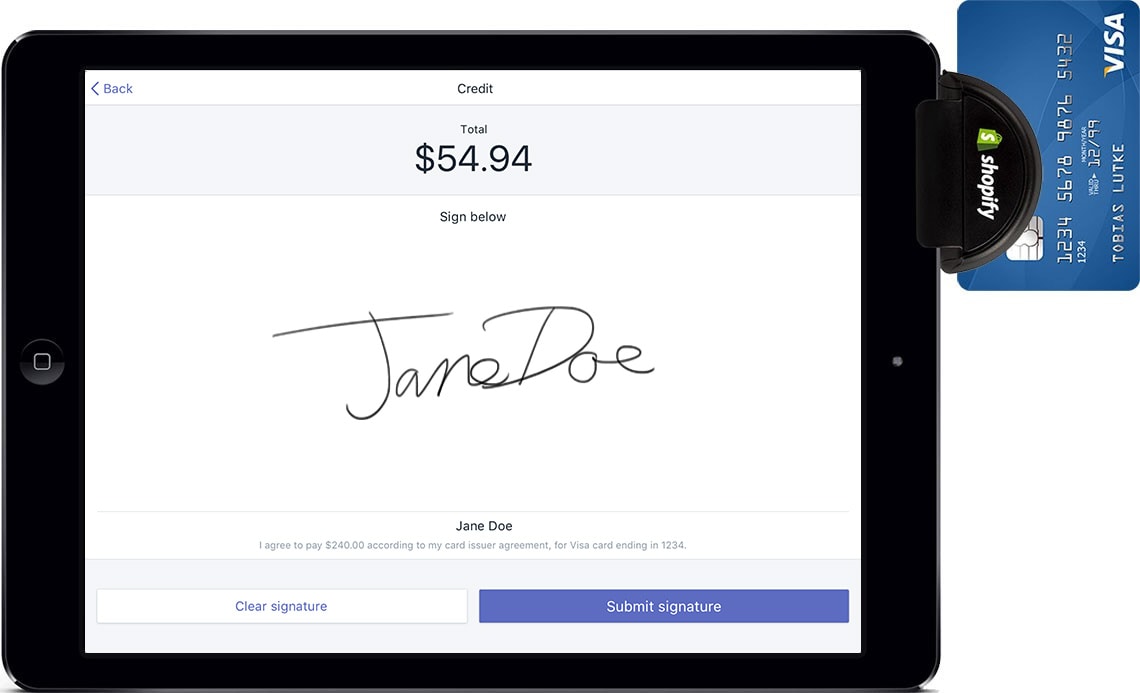 Either way, there isn't enough between these two platforms when it comes to eCommerce features but Shopify starts to pull ahead if you also want to sell products offline. With Shopify's POS kit, you can sell products online and offline with a single system and the company can also take care of payments for you with Shopify Payments (processed by Stripe).
Payment Gateway Support
Payment gateway support isn't a problem with WooCommerce or Shopify – both offer excellent support for a wide range of gateway options. Shopify still has the advantage of offering its own payment solution but this soon becomes a disadvantage if you try to use another payment processor. This is where Shopify slaps on a transaction fee for not using its payment solution.

Apps, Plugins & Integrations
Aside from the huge collection of themes WordPress gives you access to, its library of plugins is one of the biggest selling points. With plugins, you can add all kinds of features to your site without writing any code and this is before you even look at WooCommerce's extensions that bring advanced eCommerce features to your site.
Managing Your Online Store
Setting up your online store is only the start of your journey as an eCommerce business owner and managing your store is what's going to matter most on a day-to-day basis. WooCommerce and Shopify both aim to make this easier for you but the way you're going to manage your store on the two platforms is wildly different.
Website Maintenance
WooCommerce and Shopify are quite similar when it comes when it comes to managing the eCommerce side of your online store. Adding new products, updating images and creating new pages is simple on both platforms and the process is very much the same.
Where things differ greatly is the technical maintenance of your website. If you're using WooCommerce, you're going to have to figure out the source of the issue and then contact your host, plugin developer, theme developer or freelance / in house developer to fix it. With Shopify, all hosting and technical maintenance issues are handled by their in-house support team.
This doesn't mean maintaining a WooCommerce store is particularly difficult, though. WordPress simplifies website maintenance very well and there are hundreds of highly-rated plugins you can use to handle website maintenance for you – or at least make it easier. There are also plenty of companies offering flat fee monthly maintenance services for WooCommerce stores.
The benefits of maintaining your own WordPress/WooCommerce site is that you can optimise speed and SEO to a higher level.
SEO
To sell products online, you're going to need traffic and, while you can pay for this through PPC advertising, you want a healthy chunk of your traffic to arrive organically from search engines. This means keeping on top of your SEO and the WordPress/WooCommerce combination is a strong platform when it comes to optimising for search.
Then biggest SEO problem you're going to come across with WordPress is that bulky code added by a succession of plugin installs can slow your site down so you're going to need to optimise for speed. The great thing with WordPress is that you have all the freedom and tools you need to do this – as well as optimising your link profiles, adding structured data and all the other SEO essentials. Using plugins like Yoast SEO makes this a breeze.
However, one of the biggest factors in site speed is your hosting service – and this is where choosing your own provider can prove its worth.
Shopify themes generally perform very well when it comes to page speed, thanks to more efficient code working under the hood. Shopify's hosting is pretty fast, too, and it has a solid reputation for security. You'll always be able to find faster dedicated servers from WordPress hosting specialists but you'll have to pay for the privilege.
Either way, Shopify stores are generally faster at launch than similar WooCommerce alternatives.
Unfortunately, this is where the SEO advantages end for Shopify. Actually, the platform has a poor reputation when it comes to SEO although it's nowhere near as bad as many people will make out. There are some glaring issues and limitations, though:
Shopify URLs add sub-strings like

/products/

or

/blog/news/

which is really poor practice.

You can't edit or clean up Shopify URLs.

You can't access or modify your robot.txt file or sitemap

Shopify's handling of canonical URLs means multiple versions of the same page can compete against each other in the SERPs
All of the above can cause certain kinds of indexing issues. None of them are necessarily critical by themselves but it's not a great combination when you're looking at the fundamental basics of SEO. Overall, the way Shopify handles URLs is quite poor and the fact you can't edit them is really frustrating.
Content Management
Content creation is a key part of your SEO and wider marketing strategy and Shopify sadly falls short in this department, too. WooCommerce gets all the benefits of WordPress' excellent content management system (CMS), allowing you to run sophisticated content marketing strategies and optimise every part of it for SEO – or whichever channel each piece of content is running on.

Even without any plugins, WordPress is a highly capable content management system.
Shopify, on the other hand, isn't particularly great when it comes to creating non-eCommerce content. While you can easily create blog posts, you're highly limited to what you can do with them – for example, targeting long-tail keywords with optimised URLs to match your page title.
Customer Service & Technical Support
Shopify has a 24/7 UK-based support team which is always there if you run into any technical issues with your website. It's great to have this backup and Shopify's support team is great – in fact, customer service in general is one of the company's strongest points. Better yet, your chances of running into technical problems are very small because you Shopify basically takes care of all the technical stuff for you.
If there ever is an issue, you can call them up and then it's up to them to pinpoint where the problem is and put a fix to it – or talk you through the solution.
Being an open-source platform, WooCommerce doesn't offer any significant customer or technical support – and the same goes for WordPress. You're pretty much on your own when it comes to technical issues and your first task is to pinpont the problem. A critical error could come down to a conflict in the code of your theme and a certain plugin, a security breach, an update error or a problem on your hosting provider's end.
WooCommerce vs Shopify: Which is The eCommerce Platform For You?
If you want to set up an online store quickly and easily, knowing you can get just about everything you need from a single service, then Shopify is one of the best eCommerce solutions you'll come across. It does an excellent job of simplifying everything you need to do as an online store owner and most of its shortcomings are inevitable side-effects of this simplicity.
The only negatives that are difficult to accept are its technical SEO issues and lack of content management capabilities.
WooCommerce overcomes most of Shopify's shortcomings quite easily but this comes at the expense of being significantly more complex. If you want full control over your eCommerce store and the ability to optimise it at every level for the best performance, WooCommerce is a better option.