Which Is The Ultimate Self-Hosted eCommerce Platform
If you're looking for an all-in-one self-hosted eCommerce platform to create and manage your online store, BigCommerce and Shopify are probably the first two names you want to look at.
As these are both self-hosted solutions, these platforms have a lot in common and the features lists are very similar. This can make it difficult to see which option best suits your needs and you won't get the kind of information you need by simply looking at their websites.
In this comparison article, we highlight the key differences between Bigcommerce and Shopify to help you understand their strengths and weaknesses. The differences might be subtle at a glance but they make a real difference to the day-to-day running of your store – and this is what matters most to you, as an online retailer.
How Are We Going To Compare BigCommerce & Shopify?
Before we get into the details, let's quickly run through the key areas we're going to look at in this comparison article. As we say, BigCommerce and Shopify have more in common than they have differences, but the differences are there and they do matter when you're going to be working with these tools on a daily or weekly basis.
Here are the factors we're going to compare:
How much they cost

Interface and ease of use

Themes

eCommerce features

Payment gateway support

Apps, plugins and integrations

Site maintenance

SEO features

Content management features

Customer service & technical support
Both of these platforms are highly capable eCommerce solutions and you can run a perfectly successful online business with either of them. Regardless of which option you go for, either choice will give you 90% or more of what you need to get results.
However, the purpose of this comparison article is to help you choose the platform that will give you those few extra percentiles that make your life easier, save you time/money and help you maximise your profits that little bit more.
BigCommerce vs Shopify: How Much Do They Cost?
BigCommerce Prices
BigCommerce and Shopify both charge their fees in US dollars, regardless of where your business operates. So the exact pricing for UK merchants will vary a little based on exchange rates and you'll also have to consider any conversion fees your bank adds onto payments in USD.
Standard
Up to $50k sales per year
Plus
Up to $150k sales per year
Pro
Up to $400k sales per year
Those prices are monthly equivalents if you pay for a year-long subscription and fees are slightly higher if you actually pay on a monthly basis – as you probably expect from SaaS companies by now.
So prices are pretty reasonable and BigCommerce doesn't throttle features a great deal on its cheaper plans, either.
You get the following features on every plan:
Single-page checkout

Apple Pay

Coupons, discounts and gift cards

Shopping label discounts

Real-time shipping quotes

Reporting tool

Product ratings and reviews

Free HTTPs/SSL

Branded online store

eBay and Amazon integration

POS integration for in-store selling

Social media integration: Facebook, Instagram and Pinterest

Google Shopping integration
Of course, there are some feature limitations on each plan – not many, but they can be significant. You only get Google customer reviews, faceted search (product filtering) and custom SSL on BigCommerce Pro.


At the same time, you don't get customer groups and segmentation, abandoned cart saver or stored credit cards on BigCommerce Standard – and these really are powerful tools for online retailers.


There are no transaction fees on any BigCommerce plans and you can upload unlimited products to your store with unlimited file storage and bandwidth as standard on every version of its platform. You can also create unlimited staff accounts on every plan, which starts to make BigCommerce sound like a bargain for online retailers of all sizes.
However, there is a limitation the company doesn't publicise a great deal. Each plan comes with annual sales thresholds and you're ultimately bumped up to a more expensive plan if you exceed them.
The thresholds are as follows:
Standard: $50k per year

Plus: $150k per year

Pro: $400k per year
Just to be clear, that's for sales value (turnover), not profit – so those thresholds are going to matter more to some retailers more than others. If you're selling high-value items, your annual sales value can vary a lot with just one extra sale.
If you're selling more than $400k worth of goods annually, then you're going to need to look at BigCommerce's enterprise solution.


BigCommerce Enterprise is priced depending on your annual sales volume and it also gives you some exclusive features: custom facets (product filtering), price lists and unlimited API calls.
Shopify Prices
At a glance, Shopify pricing is very similar to BigCommerce with three almost-identically prices plans for SMEs and a dedicated option for enterprise retailers.
Advanced Shopify is a touch more expensive than BigCommerce Pro but there are no sales limits on any Shopify plans and this can be a major decider – so run the numbers and see how this affects you.
There isn't a great deal of feature throttling on Shopify plans either but you are highly limited on the number of staff accounts you can create. Also, keep in mind that, even if you're a one-person online retailer, you may want to create accounts for developers, freelancers or other people who need to work on your site.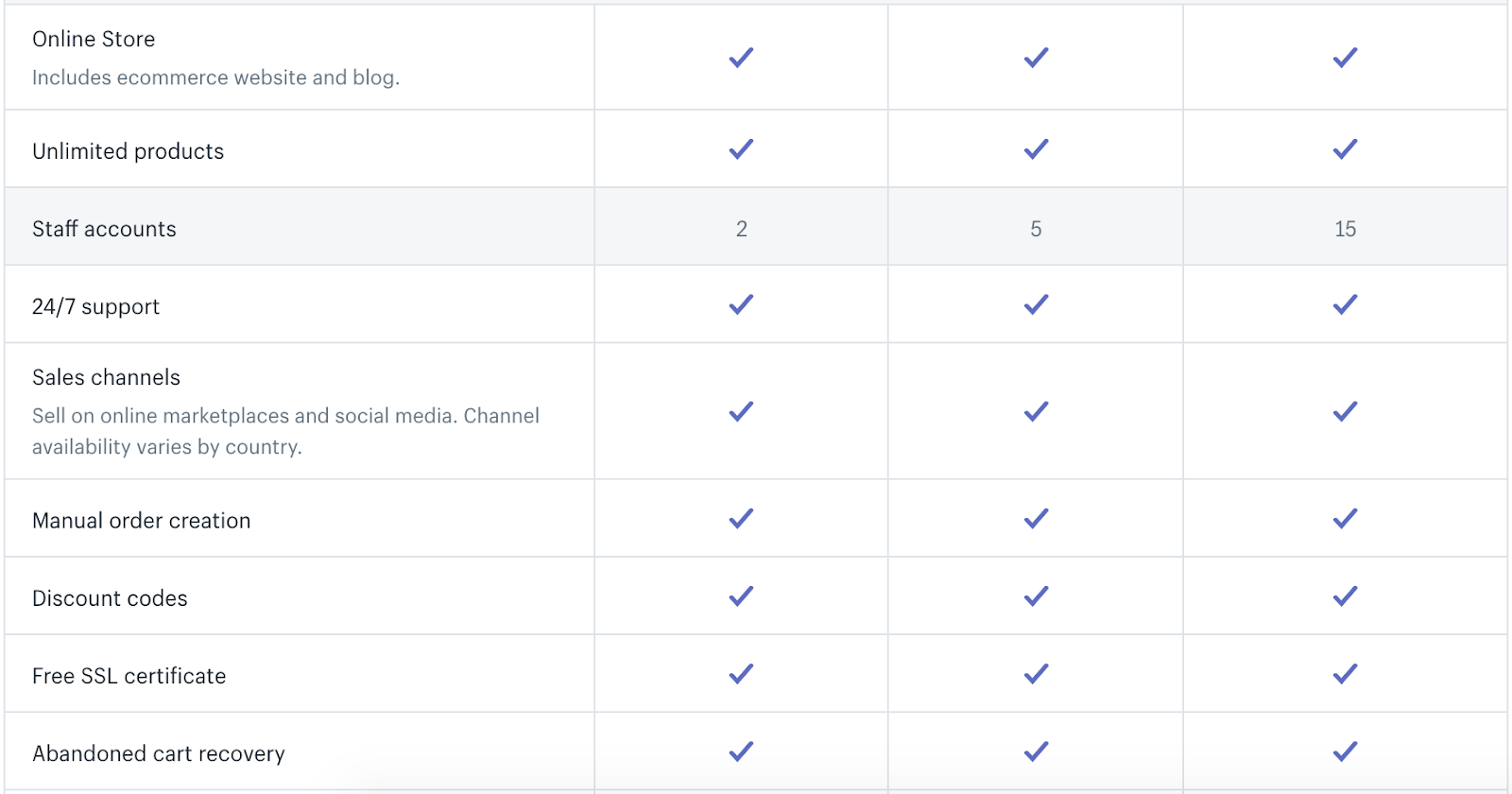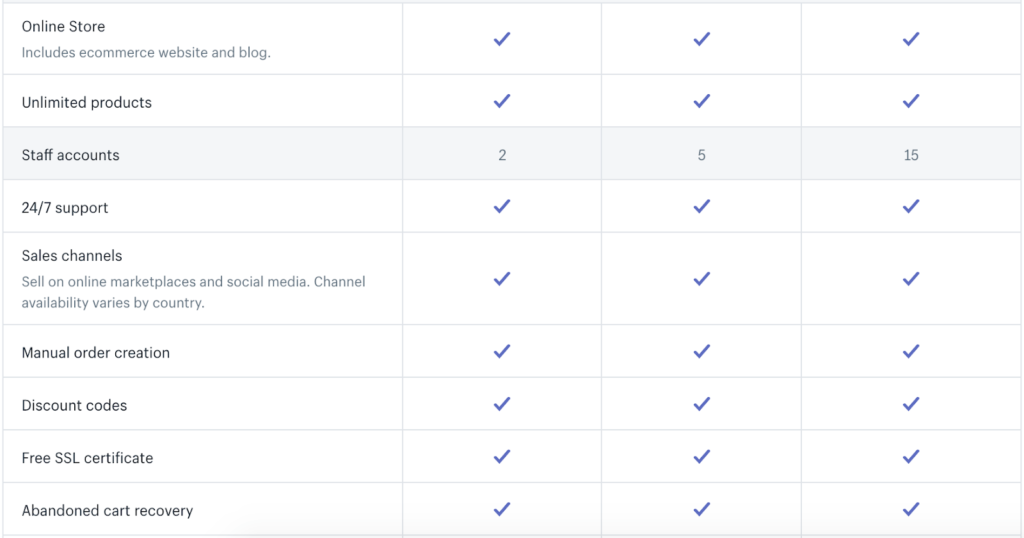 Again, there are some feature limits and you're going to miss out on gift cards and reports with Shopify Basic while advanced reports and calculated shipping rates are only available Advanced Shopify.


One of Shopify's biggest selling points is it provides its own payments services – Shopify Payments – which means you can accept card payments directly through the platform without going through a third party.
While it's great to have this option, Shopify charges you an additional 1.0%-2.0% transaction fee if you don't use its payment services.


Something else you'll need to consider with Shopify is that its most advanced features are only available through apps (essentially plugins). Shopify's app store is an excellent collection of tools but many of the apps require a monthly subscription fee, which might add to your expenses.
Setting Up Your Online Store
BigCommerce and Shopify both make it possible for people with no technical background to set up their own online store and start selling within a matter of hours. These really are two of the best platforms around in this regard but which one manages to make the entire process easiest?
Interface & Ease Of Use
Visually speaking, both interfaces are designed well and the overall structure of each platform is quite similar. However, the differences between them become a lot more obvious once you actually start creating your store.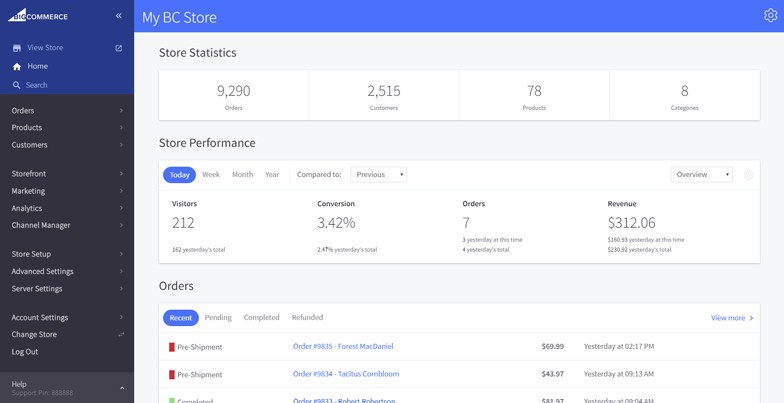 While you can virtually accomplish all of the same things on both platforms, they're structurally designed very differently.
One of the biggest selling points of BigCommerce is that you get most of the features you'll ever need as standard, on all of its plans. The problem is this makes it more complex to use than Shopify, which provides all the basic features online retailers need and then allows you to add whatever extra features you require. This results in a much cleaner interface, without features you don't need getting in your way – making Shopify the much faster platform to learn.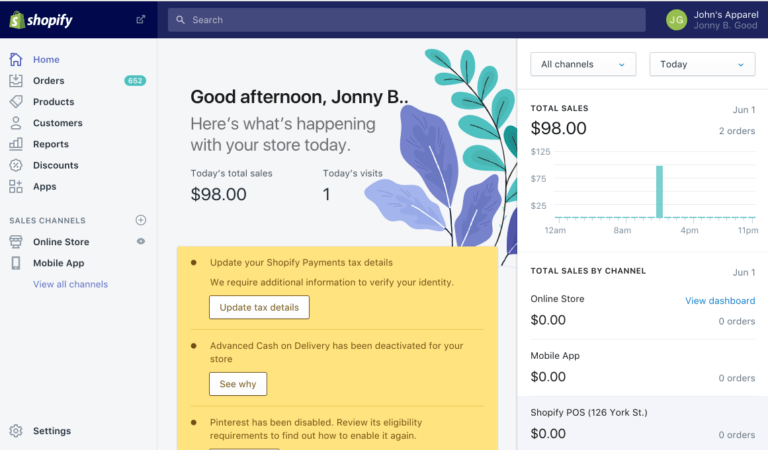 Besides that, it just takes less time to get things done on Shopify and the overall experience really benefits from this.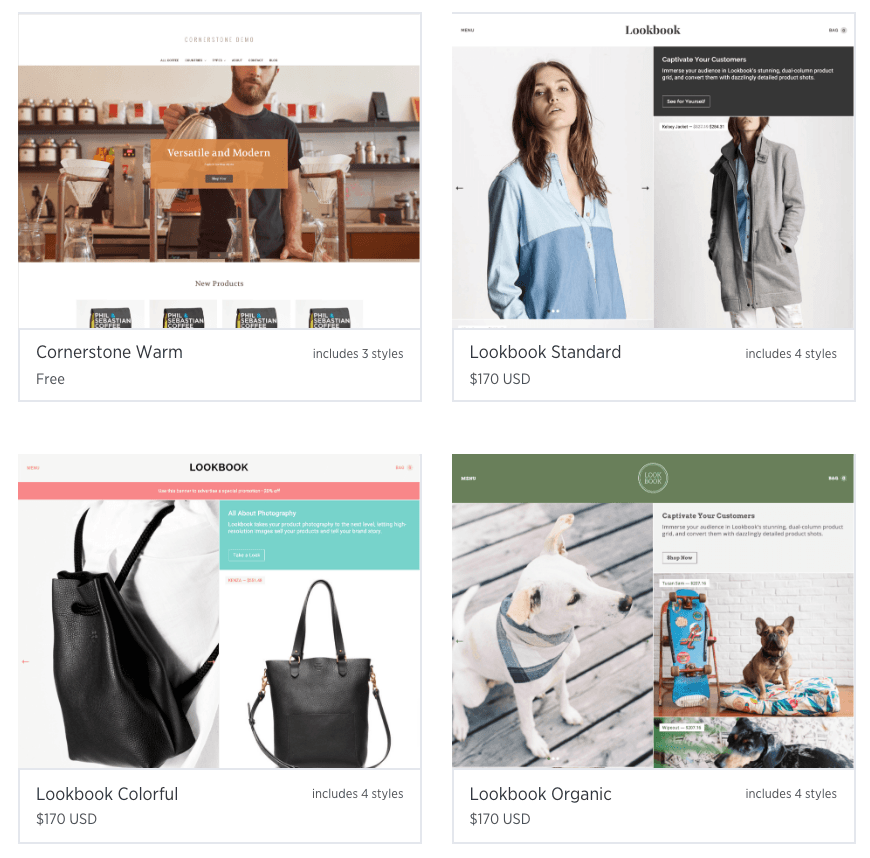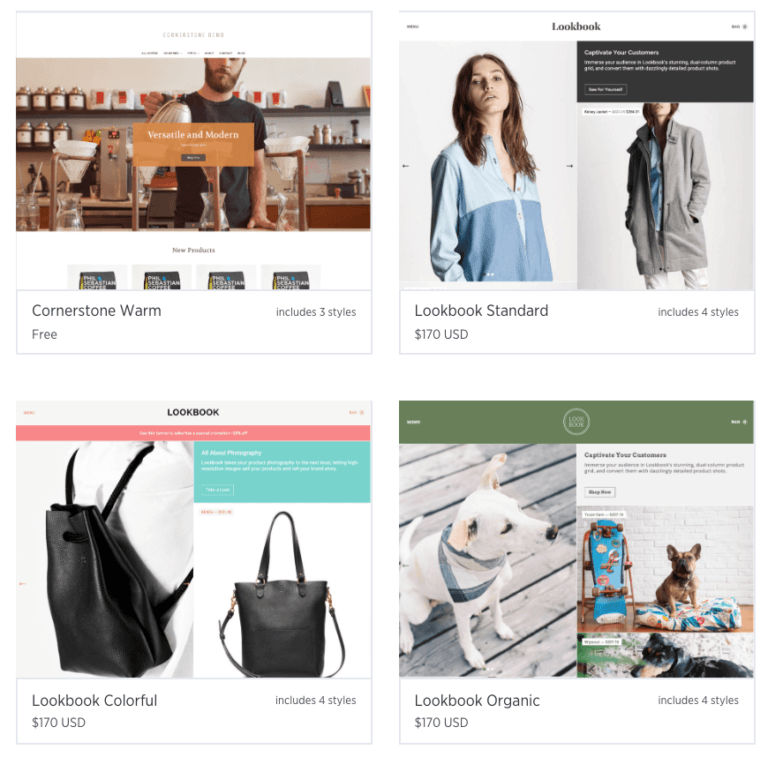 You'll find seven free themes and more than 50 paid alternatives in the BigCommerce theme store. The platform's free themes don't offer a huge amount of variety but they have been updated over the years to keep them up with modern design trends.
Paid themes are going to cost you anywhere from $145 to $235 each and you're going to be looking at $140 to $180 for paid themes on Shopify. There are also 10 free themes available in Shopify's theme store and more than 70 paid options.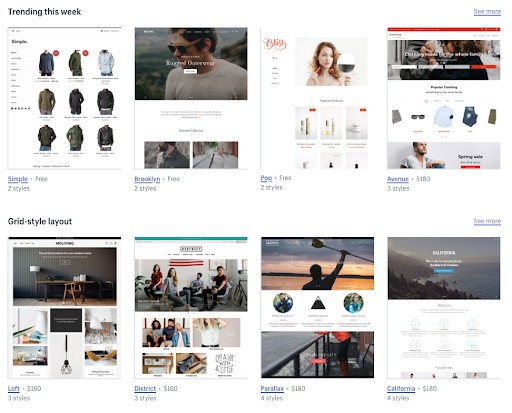 In terms of design, Shopify's themes are sleeker overall and they're all developed in-house by the company's development team. This means you get consistent performance and stability whereas BigCommerce has its themes developed externally and there are reports of bugs here and there.
When you're choosing a theme for BigCommerce, it's important to check the supported features because some features are only available on certain themes.
The good news is you can change your BigCommerce theme at any time and all of your content will be reformatted but changing themes on Shopify means you'll have to start everything from scratch.
Aside from wasting a whole bunch of time, this is terrible practice from an SEO perspective.
BigCommerce and Shopify are very similar when it comes to eCommerce features. However, the way they're packaged into the two platforms is very different and this shapes the entire experience of using them.
With BigCommerce, you pretty much get all the platform's features integrated directly into its interface. Shopify, on the other hand, only works the essentials into its platform and you'll need through add-ons in the Shopify app store. This means you can essentially choose the features you need without the rest of them getting in your way.
The end result is a much simpler interface and a platform that's quicker to navigate and easier to use – one of Shopify's biggest selling points. The downside is many of these apps require a monthly fee and you may have to pay for some of the more advanced features you're.
BigCommerce takes the opposite approach, cramming almost every feature into a single dashboard. Unfortunately, this adds a lot of complexity to the platform and getting to grips with BigCommerce can take a while. This can be overwhelming to new users but you don't have the risk of your monthly fees creeping up due to apps.
For example, BigCommerce allows you to sell physical, digital and service-based products as standard. However, you'll need to add apps to sell digital goods on Shopify and, while there are free apps available, you'll need to look at paid options for the most functionality.
Payment Gateway Support
BigCommerce comes with 65 different payment gateways integrated into its platform, serving 100+ countries and supporting more than 250 local payment options. You can set these up with a matter of clicks and there are no transaction fees on any version of BigCommerce.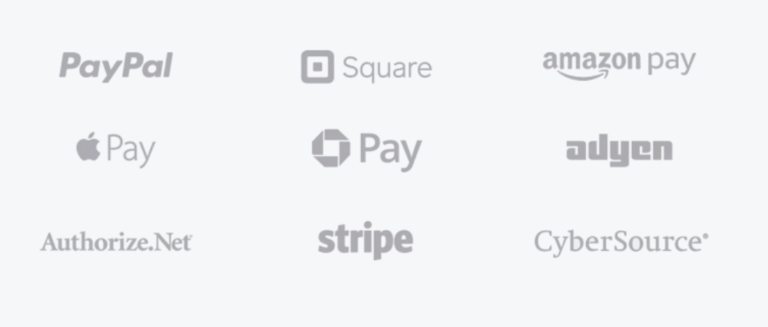 Shopify support for payment gateways is less impressive but the company doesn't want you to use third-party payment services. Instead, it wants you to use its own payments services – Shopify Payments – which are powered by Stripe.
While it's great that Shopify offers a solid set of payment services as part of its platform, we don't like the fact it charges transaction fees if you decide to go with another payment service provider.
Apps, Plugins & Integrations
BigCommerce has never been renowned for apps or integrations but the platform has improved a lot in recent years. You don't get the extensive kind of app store Shopify has to offer but you're also not going to need as many apps because BigCommerce packs more features into its interface as standard.
There are three main categories of apps with BigCommerce: marketing apps, shipping apps and accounting apps. Some apps are free but most of them are going to cost you a monthly fee and the same thing applies to Shopify's app store.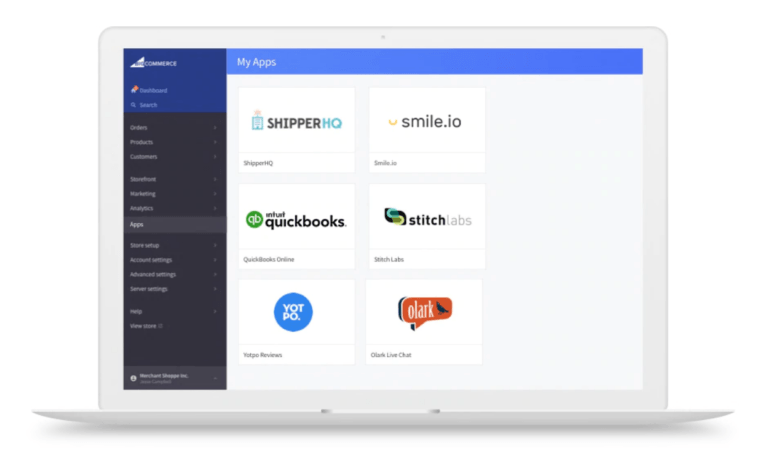 Shopify has a much larger collection of apps and stronger integration with a wider range of third-party platforms. If BigCommerce doesn't integrate with the other platforms you need to use, this could be a problem. There are also more types of apps available with Shopify – everything from SEO and conversion optimisation to customer retention, customer support, social media and all kinds of marketing apps.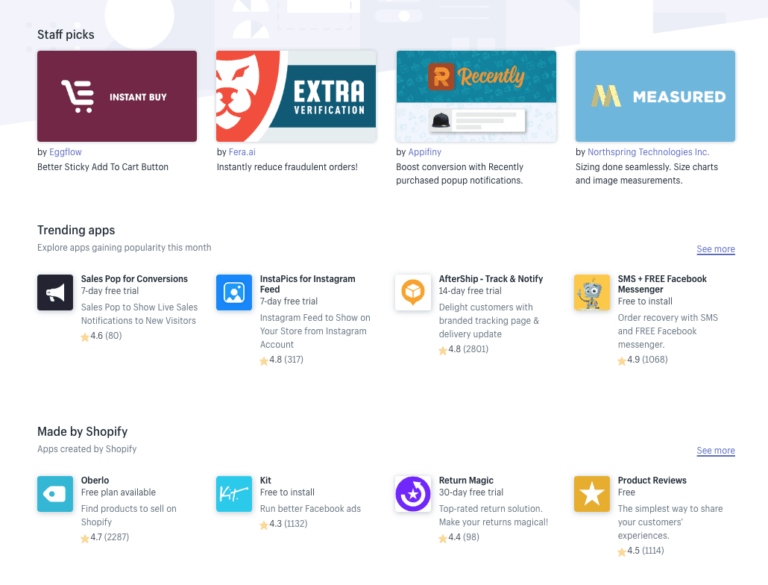 There isn't much you can't do with Shopify but you'll end up paying for plugins to make the most of the platform. So make sure you know what you need, compare the features available on each platform out of the box and check which plugins you'll need for them so you can weigh up the total cost.
Creating your online store is one thing but managing an eCommerce business on a monthly basis is something else entirely. BigCommerce and Shopify both aim to make this process easier for you and approach the task in similar ways but there are a few key points worth considering.
Managing Your Online Store
Creating your online store is one thing but managing an eCommerce business on a monthly basis is something else entirely. BigCommerce and Shopify both aim to make this process easier for you and approach the task in similar ways but there are a few key points worth considering.
Website Maintenance
Thanks to Shopify's stripped-down interface, it's noticeably easier to maintain your website. It's not that BigCommerce does a poor job in this regard but every task in Shopify is that little bit faster/easier to complete. Meanwhile, navigating your way around BigCommerce is a little more challenging but you will get used to this with time.
Something that might not get better with time is BigCommerce loading times – a fairly common complaint among its users. While Shopify has done a really good job of optimising its servers and themes for performance, BigCommerce sites often leave visitors waiting that little bit longer.
To trim those loading times, optimising your images and reducing the amount of dynamic content on your pages are the most crucial steps to take. However, Shopify sites tend to be a little faster at launch and there are apps to help you manage loading times in Shopify's app store.
SEO
This is one area where Shopify falls behind a little and we've written about this before in our Shopify vs WooCommerce comparison:
"Actually, the platform has a poor reputation when it comes to SEO although it's nowhere near as bad as many people will make out. There are some glaring issues and limitations, though:
Shopify URLs add sub-strings like /products/ or /blog/news/ which is really poor practice.
You can't edit or clean up Shopify URLs.
You can't access or modify your robot.txt file or sitemap
Shopify's handling of canonical URLs means multiple versions of the same page can compete against each other in the SERPs
All of the above can cause certain kinds of indexing issues. None of them are necessarily critical by themselves but it's not a great combination when you're looking at the fundamental basics of SEO."
BigCommerce does a much better job of helping you optimise the SEO essentials and it doesn't suffer from the same issues as Shopify, mentioned above. You'll also need to pay for plugins to optimise your Shopify website to achieve the best performance, whereas BigCommerce gives you most of what you need as standard features.
Content Management
BigCommerce and Shopify both come with blogging features to give you a platform for content marketing. You're not going to get the same kind of CRM experience you'll find on WordPress but you could argue an eCommerce brand's blogging needs are less demanding than service-based companies.
BigCommerce's SEO advantages help with your content marketing efforts as well and the platform also comes with email marketing and social media features as standard. Its cart recovery email features are especially strong, allowing you to automate up to three follow-up emails.
Shopify also makes all of the above possible but you'll need apps to match BigCOmmerce's capabilities and there's not much you can do about those SEO issues. On the plus side, Shopify's social media integration is excellent and this will be a vital channel for you as an online retailer.
Customer Service & Technical Support
Customer service and technical support is where these two platforms differ the most. Sadly, BigCommerce seems to have dropped the ball in recent years and we've seen an increase in negative reviews as a result. Most of the complaints seem to centre around how the company has changed its pricing policy multiple times (most recently with those sales thresholds) and there's some negative feedback about the quality of its customer service, too.
Hopefully, this will improve if BigCommerce sticks with its existing pricing model but this will likely depend on the company's financial performance.
Shopify, on the other hand, has a really strong reputation when it comes to customer service and technical support. Likewise, the company has been very consistent with pricing over the years and you should expect to pay more-or-less the same in five years' time as you are from day one.
BigCommerce vs Shopify: Which is The eCommerce Platform For You?
BigCommerce and Shopify are two of the most popular eCommerce platforms on the market – and for good reason. Both are fantastic tools for what they're designed to do and the right choice for you really comes down to the finer details. Shopify excels at ease-of-use, advanced features and customer service but BigCommerce gives you more features as standard and slightly better performance in terms of SEO (except for loading times).
The most important thing you can do at this stage is to make a list of all the features you need from an eCommerce platform. Weigh up the total cost you're going to pay on each platform (including paid apps) and see how they compare. Next, factor in those BigCommerce sales thresholds to see if you'll be bumped up to a more expensive plan – and this should give you a good idea of which platform makes most financial sense to you.