Find the best card payment solution for your business by comparing leading suppliers.
Fill in our short form and
save up to 40% in fees.
Fill in our short form below (it only takes a minute) and
save up to 40% in fees.
Fill in the short form below to compare payment processors and
save up to 40% in fees.

Klarna Review: Innovative Payment Solutions For eCommerce Brands
Things we like:
Innovative payment options designed to help you sell more
Financing options for your customers (covered by Klarna)
Simple checkout process
Things we don't like:
Reports of customer purchases failing
Complaints about refunds
Poor customer service reputation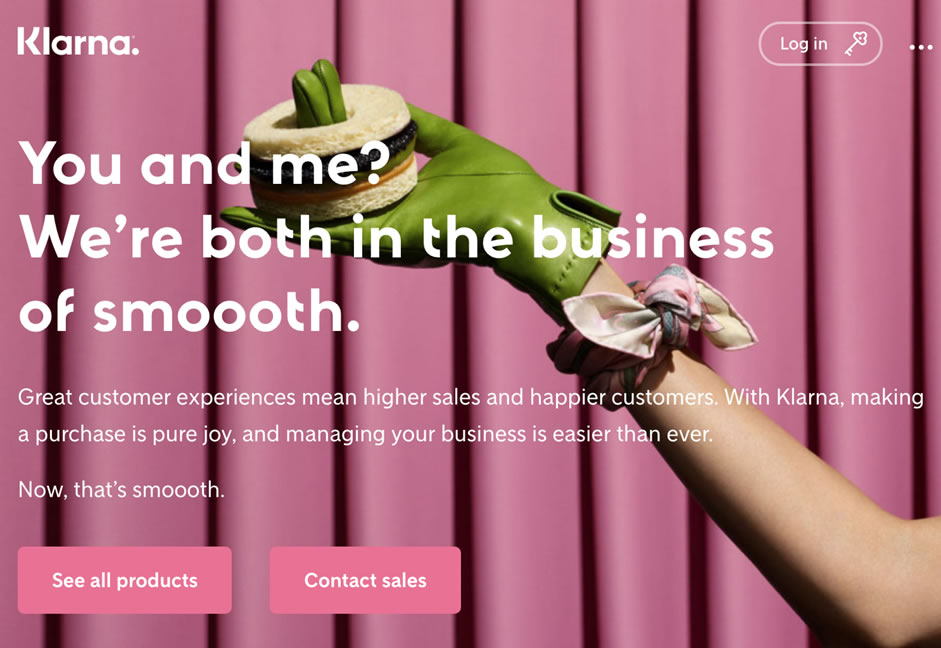 Klarna is an innovative payments company based in Stockholm, Sweden, and we don't use the term "innovative" lightly. Started in 2005 by three students, Klarna is very much a payments firm for the startup age, providing services for both merchants and shoppers.
Aside from its payment gateway, which allows you to process card payments on your website, the company offers shoppers a range of payment and financing options designed to help you sell more products. Topping the list of its payment innovations is its "buy now pay later" feature which allows customers to pay for your products after they've received them.
Here's the exciting part, though: Klarna pays you for the product, as soon as your customer completes the purchase, so you get paid right away. Then Klarna takes full responsibility for collecting the payment and dealing with any refunds, which means you never miss out.
As we say, this is truly innovative stuff.
Klarna Products & Services
Klarna provides payment services for both merchants and shoppers, starting with its payment gateway which allows you to accept card payments on your website. However, it's the payment options it offers your customers that set this company out from other payment firms. Klarna lets your customers pay for products after receiving them or pay in instalments while the company fronts you the money and takes all of the risk upon itself – so you always get paid as soon as your customers complete the purchase.
Payments: Accept card payments from Visa, Mastercard and American Express.
Payment gateway: Highly-optimised checkout to make payments as easy as possible for your customers.
Repeat purchases: Welcome back returning customers with a greeting message; enable one-click repeat purchases to make future transactions a breeze.
Pay later: Customers don't even need to enter their card details; they simply make the purchase and Klarna pays you the money in their place, giving customers 14 or 30 days to settle the bill with them.
Finance: Let your customers pay for your products in instalments knowing, once again, that Klarna takes all the risk.
Pay now: Allow customers to pay for products up-front, the good old-fashioned way.
In-store: Make use of Klarna's payment options in-store by integrating with your POS.
Integration: Integration with a wide range of eCommerce platforms and payment services.

While Klarna's payment options are truly innovative, the list of credit card issuers it supports is hardly extensive. You can accept payments from customers using cards from Visa, Mastercard and American Express, as well as PayPal. This will cover you for the vast majority of purchases but it's worth knowing that support is more limited than most payment services options.
Klarna doesn't clearly list its pricing on the official website, which is disappointing from a modern payment services company. However, with a little bit of digging around, you can find a list of transaction fees on the page for its WooCommerce integration. Rates depend on the country you're accepting the payment from, based on the currency used by the customer.
| | |
| --- | --- |
| | |
| | |
| | |
| | |
| | |
| | |
| | |
| | |
| | 2.99 % + (USD 0,30 applies on revolving account purchases) |
So this puts Klarna at the competitive end of the pricing spectrum even if it's not the cheapest options available for either high or low-volume merchants. At this point, it's important to remember that Klarna aims to actively help you sell more products and make more profit with the payment and finance options it offers your customers.
You have to decide how much value this adds to your business (if any).
Klarna Contracts & Early Termination Fees
As with most of the newer online payments specialists, Klarna doesn't tie you into any contracts and this means you also don't need to worry about any early termination fees. There's simply nothing to cancel if you're unhappy with the service. This is becoming the norm with modern payment services firms but so is publicly displaying fees on a pricing page that's easy to find – one area where Klarna falls short.
The "buy now pay later" feature has proved very popular with online customers, particularly younger customers using retail sites. However, there have been some issues around transparency for those making payments which is a recurring them in the online complaints. 
Klarna Customer Service & Technical Support
Klarna offers fairly basic phone support for merchants in the UK with a phone line open between 8am and 5pm, Monday to Friday. That means no phone support whatsoever at the weekends and you can forget about bank holidays, which leaves you with the email option out of hours and a brief help section on the website.
Unfortunately, Klarna's response to emails doesn't appear to be particularly fast although most complaints we hear come from consumers who use the platform to buy products, not the businesses accepting payments through the company.
Make of that what you will.
Klarna Reviews & Reputation


Finding reviews from merchants using Klarna to process card payments isn't the easiest of tasks. The company seems to have two accounts claimed on Trustpilot – Klarna.co.uk is listed on trustpilot.com and the lower scoring Klarna.com is listed on uk.trustpilot.com which is odd. 
They're both dominated by reviews from people using the platform to pay for products – or at least, try to. It's fair to say reviews are mixed and there are common complaints about being refused the payment options and finance Klarna promises to provide.
There are also a number of complaints from shoppers about not getting items they've paid for or refunds when they're not happy with the items they receive.
While these are complaints from shoppers rather than merchants, it's important to remember these features are supposed to make it easier for people to buy products from you and  – this is the whole selling point of Klarna. At the very least, if shoppers are being suddenly told they can't buy now and pay later, this is going to affect your sales figures.
Klarna offers some genuinely innovative payment solutions and we hope to see more companies like itself bring new things to the industry. However, the Swedish company doesn't seem to do the best job of coming good on its promises for consumers and this is worrying for merchants, too. At the same time, Klarna has a wonderfully optimised payment gateway that makes purchasing a breeze but it just lacks some basic things like a more extensive range of support for card issuers.